Retired sister in Evansville finds fishing relaxing
Friday, May. 18, 2007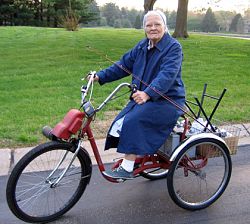 Intermountain Catholic
+ Enlarge
EVANSVILLE, Ind. – Retired Daughter of Charity Sister Charlita Wills, 86, fishes everyday, sometimes twice a day when the weather is good in Lake Louise (de Marillac) on the grounds of Mater Dei Provincial House in Evansville, Ind. She has been a religious for 65 years.
"Fishing is a wonderful way to relax. I have been fishing since I was young, and I have been fishing here for the past 30 years," said Sr. Charlita. "If the fish are too small, I put them back and tell them to grow up and get fat. I freeze the fish I keep in water in milk cartons until I have enough for a fish fry for the sisters.
"I grew up in Sunset, a small country town in Louisiana," said Sr. Charlita. "I was the youngest of 12 children, and am the only one living today. My dad died when I was in the sixth grade. He had ulcers. I had pneumonia at the same time. I was out of school for so long, I had to repeat the sixth grade. I have not had pneumonia since.
"My mother taught me to cook as soon as I could reach the top of the stove, and to sew as soon as I could reach the pedals," said Sr. Charlita. "My brother gave me a sewing machine before he died, and I still sew little girls dresses and sell them in the gift shop at Seton Hospital at Mater Dei."
Sr. Charlita lives at Seton Residence at Mater Dei, which serves as a retirement home for the Daughters of Charity in Evansville. Mater Dei is located on more than 100 acres.
"I can still remember the day I decided to become a sister," said Sr. Charlita. "We had woods in the back of our house where I lived. It was in the fall and I was out walking. I had completed two years of college, and I asked God what he wanted me to do. I did not want to get married, I did not really want to teach, and I did not want to be a nurse.
"When I was 21 years old, I met the Daughters of Charity at Charity Hospital in New Orleans. I was staying with my sister who lived there," said Sr. Charlita. "I lived with her for a while before entering the community in 1942. I was a postulant for three months before I went into the seminary. I liked it so I stayed, and here I am today.
"I am just as happy now as I was the day I first entered," she said. "It is a wonderful vocation. I live at Seton and I get all the food I can eat and all the medical care I need. I don't lack for anything."
In Sr. Charlita's mission history, she was a teacher in Chicago for a year, and she worked in nurseries and day care in Evansville, New Orleans, and Chicago for 25 years.
"I like the little ones," said Sr. Charlita. "I learned as much from them as they learned from me. At one time I could have written a book on all the things I learned, but now it is hard to recall."
Sr. Charlita also loves to cook and says her specialty is either shrimp or chicken Gumbo. In 1969, she became the dietitian at St. Joseph Hospital in Chicago. In 1971, she became the dietary supervisor at Mater Dei and served there until her retirement in 2000.
"When I retired, I packed my suitcase and walked five minutes over to Seton," said Sr. Charlita.
Her hobbies are cooking and canning, ice carving, tending the rose and vegetable gardens, sewing, fishing, and riding her bike. She also painted ceramics and baked thousands of loaves of raisin bread that she sold to raise money for the poor. She used to make ice carvings to decorate the dining room on special occasions.
Since 2002, Sr. Charlita has been the minister of prayer at Seton Residence.