Robert Rohr
Friday, Apr. 13, 2012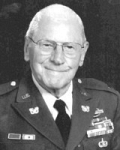 Intermountain Catholic
+ Enlarge
BOUNTIFUL — Robert Rohr, 87, passed away on March 27, 2012.
Rohr was born April 9, 1924 to Joseph L. and Julia McKnight Rohr in Detroit, Mich. He married Marjorie Horie on March 29, 1954 in Livonia, Mich.
He served in the U.S. Navy during World War II with the 81st Seabees, participating in D-Day at Omaha Beach. After being discharged from the Navy in 1946, he enlisted in the Army with the 187th Airborne Regimental Combat Team in Korea. He was a Vietnam-era veteran. The Army re-activated him during the Salt Lake City 2002 Olympics to serve in security for the Games. He was awarded many medals and decorations, including two Presidential Unit Citations, one Navy, one Army; and a Navy Commendation Medal. He retired from the Army Reserves in 1964 as a Chief Warrant Officer.
Rohr was a member of Saint Joseph Catholic Church. He was also a member and past Commander of the American Legion.
Rohr is survived by his sweetheart Gwen Cauthon; sons Robert (Paula) Rohr, Jeff (Janice) Rohr; daughter, Ann (Scott) Vance; brother, Richard F. (Joan) Rohr; 12 grandchildren and six great-grandchildren.
A memorial service was held at Lindquist's Bountiful Mortuary. He will be laid to rest with full military honors at a later date at Fort Logan National Cemetery in Denver, Colo.