Rufino Cordova
Friday, Mar. 09, 2012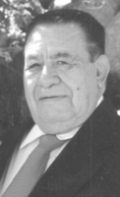 Intermountain Catholic
+ Enlarge
SALT LAKE CITY — Rufino Cordova, 84, passed away March 1, 2012.
Cordova was born Aug. 20, 1927 in Chamisal, N.M. to Epemenio Cordova and Ruperta Cordova. He married Mary Elsie Lopez on May 27, 1954. He served his country during the Korean War in the United States Army and received two Medals of Honor.
Cordova is survived by his wife; daughters Rose Elkins and Betty (Mike) Clarke; sons Rudy (Sandra) Cordova, and Ron (Rebecca) Cordova; nine grandchildren; six great-grandchildren; siblings Ernesto (Bertha) Cordova, Frumencio Cordova, Raymond (Barbara) Cordova, Matilda (Ernesto) Cordova, Timmy Cordova, Joe (Shirley) Cordova, Lilian (Frederick) Diel, Lawrence Cordova, Maxine (Joseph) Martinez, and many loving nieces, nephews, godsons and goddaughters.
A funeral Mass was celebrated at Saint Joseph the Worker Catholic Church.