'Safeguards' offer no protection
Friday, Dec. 02, 2016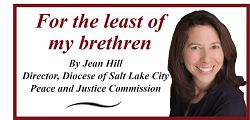 + Enlarge
During the past three years of legislative debates about legalizing assisted suicide, proponents touted the "safeguards" within the proposed law as somehow sufficient to protect the vulnerable. Before another session begins with a push to support suicide, lawmakers, and we their constituents, need to fully understand just how meaningless these safeguards would be.
Take the hypothetical case of Marie. Marie is 56 years old. She has been divorced for several years and has no contact with her ex-husband. Her only living relative is her son, James. Marie also suffers with the regular pain of rheumatoid arthritis and migraines.
Recently, Marie was diagnosed with advanced stage breast cancer. Her doctor guesstimates that she has about five months to live if she does not undergo treatment, and up to two years if she does. Marie calls James, her only heir, with the news. James, familiar with his mom's ongoing pain from other causes, suggests she look into assisted suicide. Marie, suffering from some depression after the diagnosis and a recent debilitating flare up of her arthritis, agrees. James sets up an appointment for her with her new oncologist.
Marie meets with the oncologist. He reviews her medical records as Marie explains how much she fears being a burden on her son. Marie admits that her usual doctor thinks she should not pursue assisted suicide, but the oncologist does not ask her any additional questions about this and is not required to check with her regular doctor, her rheumatologist or her neurologist about her history. Marie is required to get a second doctor, who agrees assisted suicide would be right for her, so the oncologist suggests she talk to another physician within the office. After her 15-minute interview with the second doctor, Marie is found to be "competent" under the assisted suicide law.
The doctor provides Marie with the written request form she must sign and have witnessed before she receives her lethal prescription. She meets her son and his friend for lunch and they witness the document.
Two weeks later, Marie returns for her prescription. The doctor files his paperwork stating that he did everything according to the law, and Marie walks away never having to discuss her growing depression with a mental health professional.
Eighteen months later, Marie is still very much alive. At this point, her rheumatologist notifies her that she will need surgery, which will require a long convalescence. Marie dreads being a burden on James and sinks deeper into depression at the state of her health and the disruption of her and her son's lives. When she explains the situation to James, he suggests she forget about surgery; it might be a good time to take the lethal prescription she received several months before. With James in attendance, Marie takes her pills. Luckily for James, who has no medical training, she is able to take the full bottle before falling asleep and does not vomit the medication back up. Within a few hours, she is dead.
At the end of Marie's life, all of the "safeguards" in the law have been applied, despite the many red flags. Though the doctors who approved her prescription had never worked with her before and did not specialize in any of her longer-term medical conditions, she met with two of them two weeks apart, thus satisfying the law. Though the physician who knew her longest worried she was not competent to choose death, the two she met were deemed capable by law of determining whether her life was worth living based on their brief experiences. Despite the high likelihood that a woman living alone with several painful conditions and a terminal diagnosis might be depressed, by law the doctors were not required to refer her to psychiatric care before handing over the means to kill her. Though her sole heir was a witness to her request and encouraged her death, nothing in the law prevents such actions, and nothing requires that competent medical providers be on hand should anything go wrong.
In other words, the safeguards in Utah's proposed assisted suicide bills do nothing to protect patients as they make truly life-or-death decisions. As people of faith committed to protecting the inviolability of life, we must let our elected legislators know that encouraging Utahns to commit suicide is utterly unacceptable.