Saint Ambrose Parish hosts pro-life speaker on 'Raising Children with Humor'
Friday, Feb. 28, 2014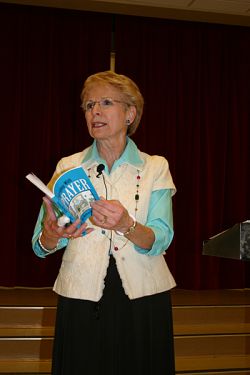 Intermountain Catholic
+ Enlarge
SALT LAKE CITY — Mary Ann Kuharski, a wife, mother of 13 children, and a grandmother, spoke about "Raising Children with Humor" at Saint Ambrose Parish Feb. 22.
All of Kuharski's children are grown and six of them are adopted and of mixed races with special needs. She is from Minneapolis, Minn., and also is the director of PROLIFE Across AMERICA, known as "The Billboard People," because of the way they advertise.
"I think you can get a lot farther with something positive, and humor worked with 13 children, some of whom were very troubled," Kuharski said. "Some were in treatment centers and in and out of mental hospitals. If you don't see the humor in the day-to-day living, it just makes it that much harder. I always say 'humor and prayer go hand in hand.'"
Kuharski was adopted, "so adopting children was a natural thing for me to do," she said. "We looked a little different than the average family and our family called us the United Nations."
Kuharski learned from her pastor that parents are the first missionaries of their children, and grandparents, godparents, aunts and uncles are the second missionaries. Her top goal in raising her children was "getting them to heaven," she said. "Scripture teaches us that 'Eye has not seen, ear has not heard … what God has prepared for those who love the Lord.' That means whatever my kids did had to be in line with our number one goal."
Toward this end, "I suggest taking children to church and sitting on the front row," she said. "I'm so used to rocking kids that were fussing, I still rock grocery bags."
Kids don't notice color or culture, Kuharski said. "Kids notice who loves them, who they can trust and who they feel secure with. Love never divides, it always multiplies. I remember when we were going to have our second child, I thought, 'How can I love this child as much as the first?', but there is a whole different set of emotions that come with the second one, and the same was true when we adopted our children."
She and her husband have different personalities, she said. "I'm Italian and I told my kids I was going to have varicose veins of the neck, because I had to yell and scream to get things off my chest," she said. "My husband is Polish and so mild mannered, his mother used to say, 'I wonder what would have happened if he would have married a nice Polish girl?' I said, 'He would have been in a coma from lack of stimulation; he needs me.'"
Kuharski wasn't afraid to discipline her children and suffer the consequences of not being popular with them for having done so, she said. She warned the parents at the presentation that kids "watch what we do and believe," she said. "If we want our kids to be Catholic, to pray, to go to church and to love the Church, then we need to do the same. I told my children after I had or adopted them that God gave them a guardian angel and he reports to me."
Parents have to cheer each other on, Kuharski said, adding that she has five basic principles that she lives by: pray together, play together, eat together, work together and discipline and love. "Discipline is love and love is a four-letter word – time. 'I am taking time for you.' Stick with people who are like-minded and will support your faith journey."
JoAnn Holder, a St. Ambrose parishioner, liked Kuharski's advice about eating together as a family, she said.
Dick Hall, from St. Ambrose, agreed. "We always ate at home. My wife would cook for us while the kids started their homework," he said.
It was powerful for Brett Little, from St. Ambrose, to hear how Kuharski's children saw their father kneeling and praying in church and how it impacted their lives," he said.