Saint Andrew School graduates first eighth-grade class
Friday, Jun. 08, 2012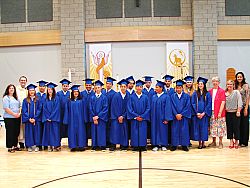 Saint Andrew School
+ Enlarge
RIVERTON — Saint Andrew School, which opened in 2008, celebrated the graduation of 17 eighth-grade students at the school's first commencement ceremony on May 18.
The eighth-grade class processed in before their parents, teachers, family and friends. Father John Evans, pastor of Saint Andrew Parish, was the main celebrant; he was joined by Monsignor Colin F. Bircumshaw, Diocese of Salt Lake City vicar general; Monsignor J. Terrance Fitzgerald, vicar general emeritus; and Father Francisco Pires, the parish's founding pastor who is now pastor of Saint Thomas Aquinas Parish in Hyde Park. Also in attendance were Holy Cross Sisters Catherine Kamphaus and Genevra Rolf, superintendent and associate superintendant of Utah Catholic Schools; and ALSAM Foundation representatives Don and Theresa Skaggs.
"We know you are excited to begin high school and are looking forward to your future," Fr. Evans told the graduates. "You have been given a strong foundation here at Saint Andrew, and we know you will do well."
A student representative from the graduating class, Alejandro Lopez, also addressed his fellow classmates. "I will take many memories and friendships with me from my time here, however what I will never forget is the strength and courage I have witnessed from Sister Karla and her fight with cancer," he said.
Holy Cross Sister Karla McKinnnie is Saint Andrew's founding principal. As she graduated the first eighth-grade class from Saint Andrew, she also said good-bye. She is leaving the school to take the position of associate director of the Special Needs Department at the Utah Catholic School Diocese Office.
At the commencement ceremony, Sr. Karla sports about this year's theme of faith, academics, and service. "Service has been an emphasis at Saint Andrew. May you, our graduates, stand out in high school as people who serve. Having reached this milestone, I am proud of you and wish you success as you go on to high school. We will miss you."
Following the speakers was the presentation of the awards. Valedictorian for the class of 2012 was Vanessa Boehme-Martinez. Salutatorian was presented to Megan Fairchild, and the awards for Christian Service went to Bryan Alcala and Jaclyn Testone, who also was student body president.
Courtesy of Saint Andrew School