Sarah Manzanares
Friday, Jun. 24, 2022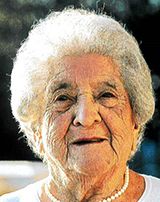 Courtesy photo
+ Enlarge
The world lost one of its kindest souls with the passing of our loving mother, Sarah Manzanares (nee Casias). She was born and raised on a simple farm near Antonito, Colo. She moved with her first husband, Ross Gutierrez, to Salt Lake City in 1944 in search of better opportunities and lived there for the rest of her life. Sarah later married Jose H. Manzanares and continued to grow their family. She faced many hardships, worked hard and met all of life's challenges with grace and kindness, never saying a bad word about anyone.
Sarah was predeceased by husbands Ross Gutierrez and Jose H. Manzanares; children Robert Gutierrez, Joyce Wilcox and Alex Gutierrez; and stepchildren Manuel and Patrick Manzanares. She is survived by brother Roger Casias of Salt Lake City; children Margo (and Brian) Zarker of El Granada, Calif., Georgiana (and Wayne) McGillick of Santa Clara, Calif., Elaine (and Max) Lozano of Salt Lake City, and John Manzanares of Surprise, Ariz.; and stepdaughter Carol Lundberg of Salt Lake City; 10 grandchildren; 27 great-grandchildren and 10 great-great-grandchildren.
It is a wonder how one person can have so much love for so many people. Rest in peace, Dear Mother. You did a magnificent job, and we all love you.
A funeral Mass was celebrated June 20 at St. Patrick Catholic Church, followed by committal at Mt. Calvary Cemetery.