Seminarian to be ordained a transitional deacon
Friday, May. 17, 2019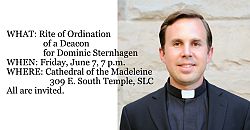 + Enlarge
SALT LAKE CITY — God often works in mysterious ways and those ways can be very compelling when He needs certain work to be done or certain people to do that work. Seminarian Dominic Sternhagen learned that several years ago when, on a layover in the Salt Lake Airport, he felt a prompting to serve in the Diocese of Salt Lake City.
"I just had the feeling, it was a strange thing, that 'this is the place'" where he was meant to serve, even though, except for passing through the airport several times over the years, Sternhagen had never even visited Utah, he said.
"I thought, 'Wow, I don't even know what to do with that [feeling],'" he said.
At the time, Sternhagen was studying to be a priest with the Legion of Christ and knew that it was extremely unlikely he would ever be sent by the Legion to serve in Utah. He set the feeling aside and continued his studies.
However, "after 12 years I realized that wasn't what God was calling me to do," he said. "I thought I should take a step out and see if I couldn't resolve that."
Taking a year out to do pastoral work in Philadelphia, he realized God was calling him in another direction, he said. Remembering that feeling in the Salt Lake Airport, he called the Diocese of Salt Lake City's vocations director to express his interest in serving here.
Once the vocations director learned Sternhagen spoke Spanish, he offered to fly him out. Sternhagen came to Utah, first serving at St. Joseph Parish in Ogden and then St. Mary Parish in West Haven for several months.
"It just seemed right to me," Sternhagen said of those experiences, so he accepted the invitation to attend Mount Angel Seminary in preparation for ordination as a diocesan priest.
His call to serve in Utah was not the seminarian's first unusual encounter with the Lord. He had always been afraid he might have to be a priest, he said.
When Sternhagen was born, his great-aunt Irma, who was from Belgium, proclaimed that his hair swirled in a way that in her native land indicated he was going to be a priest.
'So I always thought, 'Oh no, maybe this is something I am going to have to be doomed to have to do,'" he said.
While attending high school at the Benedictine Seminary of Christ the King in British Columbia, Canada, he felt no call to the priesthood. He planned to have a family and career until one day, while home for the summer, he was praying in his parish church in Michigan.
"I had a very strong experience of the call of God," he said.
"What real man would be a priest anyway?" he asked himself as he prayed, he said. "I looked up and I saw this huge crucifix and it seemed like Christ was asking me, 'Was I a real man? Did I get married? Did I have a family? Did I do what I wanted to do or did I do the will of my Father?' … I then received the grace of having this joy and peace about the idea of being a priest, and a desire of giving my life in service."
From that time on, Sternhagen pursued that calling. In 2004, he entered the Legion of Christ and now he has just completed his third year at Mount Angel Seminary. In June he will be ordained a transitional deacon. He is looking forward to his future in the Diocese of Salt Lake City and is happy to serve wherever he is needed.
"I've always felt called to be helping people; that's why I wanted to become a priest in the first place," he said.
"I would like to be able to bring people to Christ, to help people to become disciples," Sternhagen said of his future service in the diocese. "This is a fundamental thing, and I think it's something we kind of miss in our church a lot of times. … We think our church is about doing something, it's about this, it's about that, but really, if people really have a relationship with Christ, if they have a relationship with God, their life transforms and they'll do amazing things and they'll be amazing people."
Those who have served with Sternhagen said he has much to offer the people of the diocese.
"Dominic is prayerful; he is intelligent and well rounded. He loves people. I found him to be diligent and hard-working," said Father Martin Diaz, rector of the Cathedral of the Madeleine, where Sternhagen served a short assignment.
Sternhagen will be ordained a transitional deacon at the Cathedral of the Madeleine on June 7, then will serve in Christ the King Parish in Cedar City this summer.
He will return to the seminary in the fall for a final year of study. He is scheduled to be ordained a priest next year.