Sister Annette (Margaret Mary) Brophy, OSB
Friday, Sep. 15, 2023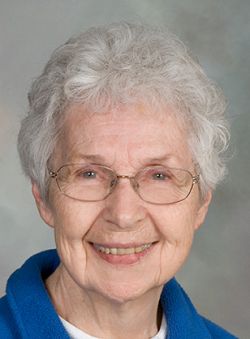 Courtesy photo
+ Enlarge
August 7, 1927 ~ August 31, 2023
Sister Annette (Margaret Mary) Brophy passed away on August 31, 2023 at Saint Scholastica Convent, St. Cloud, Minnesota.
Margaret Mary Brophy was born August 7, 1927, to Edward William and Annette (Beninato) Brophy in Ogden, Utah, where she attended St. Joseph Grade School and Ogden High School. She entered Saint Benedict's Monastery September 11, 1954, was received into the novitiate June 15, 1955 as Sister Annette, made first monastic profession July 11, 1956, and perpetual monastic profession on July 11, 1959. She celebrated her Golden Jubilee in 1996 and her 60th anniversary of profession in 2006.
Always an artistic and creative person, Sr. Annette received a B.A. degree in music with minors in English and secondary education at the College of Saint Benedict in St. Joseph, Minnesota. She studied at the University of Michigan in Ann Arbor, Michigan, receiving a certificate in English as a foreign language and attended the Language School in Rappangi, Tokyo, Japan.
Sr. Annette served as an educator in Holy Family, Sauk Centre, Minnesota; St. Mary's, Breckenridge, Colorado; St. John's in Meire Grove, Minnesota and in the Catholic High School in Muroran, Japan, where she taught English and music. At Saint Benedict's High School in St. Joseph, Minnesota, Sr. Annette taught music and English for foreign students. She was the music librarian and taught voice at the College of Saint Benedict in Minnesota, composed music and gave private music lessons, as well as being a freelance photographer and taking pictures for the community.
With script writer, Sr. Galen Martini, Sr. Annette created two multi-media programs published by Liturgical Press: "Peace, the Urgent Dream" and "Journey of Conversion." Together with Sr. Mara Faulkner, Sr. Annette co-authored a book published in 1998 about Benedictine women across the world, Born of Common Hungers: Benedictine Women in Search of Connections, Notre Dame Press. She also taught photography, writing and journal making in the Spirituality Center.
In addition to her Benedictine community, Sr. Annette is survived by her sisters, JoAnne (Charles) Dean and Annette (Frank) Jacobs; her sister-in-law, Marilyn Brophy; as well as nieces and nephews. She was preceded in death by her parents; her brothers, Tim and Philip (Betty); and her sisters, Dorothea (Clayton) Giroux and Joyce (Tom) Brennan.
The Eucharist of Christian Burial was celebrated on September 9, 2023, at the Sacred Heart Chapel, Saint Benedict's Monastery, St. Joseph, Minnesota. Burial of the cremated remains were in the monastery cemetery.
Please direct memorial gifts to the Sisters of the Order of Saint Benedict Outreach Ministries.