Sister Marilla (Mary Marie) Dyer, CSC
Friday, May. 22, 2020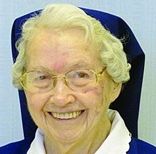 Courtesy photo
+ Enlarge
Sister Marilla (Mary Marie) Dyer, CSC
September 3, 1920 ~ May 9, 2020
Mary Marie Dyer was the oldest of three children of Herbert Clinton Dyer, a rancher, and Nellie McRae, a homemaker. She was born on September 3, 1920 in Kemmerer, Wyo. When Mary was 7 years old, the Dyer family moved first to Idaho and then settled in Utah. She first met Holy Cross sisters at Saint Joseph Grade School in Ogden.
She entered the Congregation of the Sisters of the Holy Cross from Salt Lake City on January 30, 1944 and made her initial profession of vows on August 15, 1946.
Her teaching ministry as a Sister of the Holy Cross spanned 47 years in seven western states. Sr. Marilla graduated from Saint Mary's College, Notre Dame, Ind. with a bachelor's degree in 1947, and completed her master's degree in 1965 from Immaculate Heart College in Los Angeles, Calif. Sr. Marilla's greatest joy was her involvement in education on the elementary and secondary levels as a teacher and administrator. She also spent many years as a high school principal.
In 1987, Sr. Marilla managed the central supply store of Holy Cross Shared Services, at Saint Mary's, Notre Dame, Ind. for eight years. From 1995 to 2004, she ministered at Our Lady of Holy Cross Care Center, San Pierre, Ind. When her health declined, she retired to the motherhouse and Saint Mary's Convent, Notre Dame, Ind. and embraced her new assignment to a ministry of prayer.
Having lived to her 99th birthday, Sr. Marilla continued to touch more lives until God called her home. She had a very positive personality, infectious laugh and was always willing to listen and share her spiritual knowledge. She was fun to be around.
It is not known why the infant Mary Marie Dyer was baptized with two names in honor of the Blessed Mother. Very appropriately, Sister bore another variant of Mary in her religious name, Sister Marilla. In May, the month of Mary, Sr. Marilla died in Saint Mary's Convent on May 9, 2020.
She was preceded in death by her brother, Herbert Dyer, her sister, Dorothy Kroll and her brother-in-law, Henry Kroll. She is survived by her sister-in-law, Lynn Dyer, 10 nieces and nephews, and many great and great-great nieces and nephews.