Solar panels help parishes continue conservation efforts and save money
Friday, Jul. 29, 2016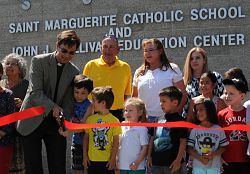 IC photo/Marie Mischel
Photo 1 of 3
TOOELE — Saint Marguerite School is the third Diocese of Salt Lake City facility in three years to install solar panels, a move that officials say not only helps protect the environment but also helps with the power bills.
Saint Thomas More Parish installed a bank of solar panels on the parish center in 2014, and St. Joseph the Worker did so last year.
"The parish council of St. Thomas More has a great desire to be good to our environment," said Father John Evans, pastor, adding that they also have placed recycling bins in every office and the parish hall and encouraged their use. Now, after the Friday game nights, "the recycle bins have more in them than the garbage, where it used to be the reverse, so we're recycling more than in years past," he said.
At Saint Joseph the Worker Parish, which installed solar panels last year, "going green is kind of a big commitment that they've made," said Jeremy Castellano, pastoral associate.
Those efforts include reducing water consumption with xeriscaping, which was installed when the new church was built in 2011.
Since the solar panels were installed last year, the parish has eliminated 15 tons of carbon dioxide emissions and offset the equivalent of more than 2,000 gallons of gasoline and 4.5 million smartphone charges, according to the accompanying meter.
"The parishioners still get excited looking at that," Castellano said.
At St. Marguerite School, a similar monitor will allow teachers to incorporate data from the solar panels into curriculum across academic disciplines, said Principal Lorena Needham, adding that "it will enhance our ability to teach care of the environment because we can show by our actions what it is we're teaching."
All three institutions received grants through Rocky Mountain Power's Blue Sky program for the solar panels. The program, which has been in place since 2006 but is now on hold, has helped fund more than 100 projects in Utah, Wyoming and Idaho, according to the website https://www.rockymountainpower.net/bluesky.
St. Thomas More Parish received a grant for the full amount of installation; the other two parishes raised matching funds.
None of the solar panel arrays is large enough to power the entire facility on which it is installed. At St. Joseph the Worker Parish, the panels have reduced the power bill by about 30 percent, Castellano said; Father Samuel Dinsdale estimates the 32-kilowatt array will provide similar savings at St. Marguerite School.
At St. Thomas More Parish, "They're not giving us as big a benefit as we hoped for, but we do save about $200 a month on our electricity bill for the parish center, so that's still $2,400 a year, which is nice," Fr. Evans said.
However, as Castellano said, "it's not only about saving money, which is of course important when you're running a church on donations, but the real big pro is helping to save the environment, and that's part of what we look at is being Catholic here: protecting the environment and God's creation, and this is our way of making a small, little difference in our little corner of the world."