Speakers to focus on lay ministry, leadership during Pastoral Congress presentations
Friday, Aug. 06, 2021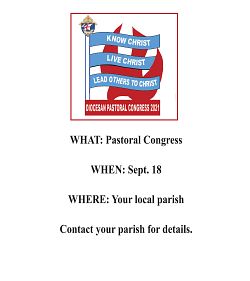 Photo 1 of 3
SALT LAKE CITY – At the upcoming diocesan Pastoral Congress, pastors, catechists, lay leaders and local Catholics will gather in their parishes and missions to listen to prerecorded messages that will highlight the theme of "Know Christ, Love Christ, Lead Others to Christ" chosen by Bishop Oscar A. Solis.
The keynote speakers at the Sept. 18 Pastoral Congress will be Father Sergio Serrano, O.P. and Brother Loughlin Sofield, ST. Br. Sofield will present the English-speaking session; Fr. Serrano will lead the Spanish-speaking session. Both men have spoken at local diocesan events in the past.
Fr. Serrano, a member of the Southern Dominican Province of St. Martin de Porres, was ordained in 2007. He has served in several ministries for his province, including as pastor of the historic St. Dominic of Guzman Church in Guayaquil, Ecuador. Currently he is the director of the Hispanic Apostolate for the Archdiocese of New Orleans and is working on a doctorate in ministerial theology at Barry University in Miami, Fla. Fr. Serrano was a retreat master for the 2020 diocesan Lenten Retreat.
Fr. Serrano's topic, "The Lay Ministry of Catechists," will be based on Pope Francis' May 10 apostolic letter Antiquum Ministerium (The Ministry of Catechist).
"Today's Church relies very much on the laity," Fr. Serrano said. "If we don't instruct the laity and they don't instruct others, the Church is going to be lost in a minute. Sometimes people come to our celebrations and they don't find the celebrations to be meaningful because nobody has taught them what they are all about. To form minsters is a very important thing for the Church today.
"We have to recognize that the first catechists are always the laity," he added. "We learn prayers from our parents and siblings, and they are not ordained ministers. Their role is our first encounter with God. And I hope it will be a stronger encounter as they get more prepared and more knowledgeable about the process of catechism that we have to do, beginning with children."
Fr. Serrano encourages those who plan to listen to his session at the Pastoral Congress to study Antiquum Ministerium beforehand. Familiarity with that text will help participants understand his message more clearly, he said.
Br. Sofield, a Missionary Servant of the Most Holy Trinity, has served as director of the Missionary Servant Center for Collaborative Ministry; director of the Washington Archdiocesan Consultation and Counseling Center; and assistant director of the Center for Religion and Psychiatry, Washington, D.C. He was senior editor of Human Development magazine for more than 30 years and is the co-author of several books. He has visited the Diocese of Salt Lake City as a guest presenter for the lay ecclesial minister formation program and a facilitator for a day of reflection.
For the Pastoral Congress, Br. Sofield's talk is titled, "Leadership in the Post-Pandemic Church."
"There are going to be many things different and new in the Church after this pandemic," he said. "With what we've been through, it has to be."
"I want to focus on the living Christ and leading others to Christ," he said. "If you want to live like Christ, you need to be compassionate. As a result of the pandemic, we have seen the great need for this. When I look at the life of Jesus, If I want to live Christ, for me the first thing is to be compassionate."
The second thing he would like to share is the importance of exercising forgiveness, he said. "It's the one thing people want to talk to me about because they don't know how to do it."
He also plans to share a message of hope.
"It's a universal need people have, particularly during the pandemic, because of all of the things people have gone through" he said. "One of the major things people have experienced is loss; there are so many losses that people have experienced."
Br. Sofield encourages those who will join him at the Pastoral Congress to contemplate these concepts and to meditate on their own gifts and what they have to contribute to help lead others to Christ.
This year's Diocesan Pastoral Congress will have a different format than in past years. Rather than meeting at one central location, local Catholics will instead meet at their parish. They will hear a pre-recorded message from Bishop Oscar A. Solis, then view a video presentation by the keynote speaker, who will also suggest discussion questions for parishioners.
WHAT: Pastoral Congress
WHEN: Sept. 18
WHERE: Your local parish
Contact your parish for details.