Special Temple Square tour, composer spotlight on tap for Southwest Liturgical Conference opening
Friday, Jan. 21, 2011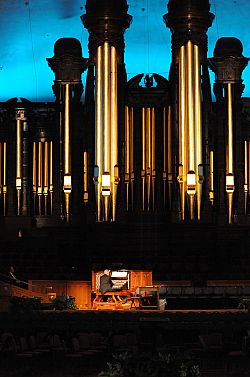 Intermountain Catholic
+ Enlarge
SALT LAKE CITY — Two special pre-conference events have been arranged for those attending the Southwest Liturgical Conference, scheduled for Feb. 2-5 at the Salt Palace in Salt Lake City: a tour of Temple Square that will include a question-and-answer with a Mormon Tabernacle Choir organist and choir director, and a composer spotlight featuring David Kauffman and William Gokelman, whose "Mass of Renewal" took first place at the National Association of Pastoral Musicians contest.
Kauffman and Gokelman are well-known liturgical composers, and the spotlight will be a tremendous opportunity for those attending the conference to speak with them, said Karin Hurley, core program committee chairperson for the Southwest Liturgical Conference.
The "Mass of Renewal" will be published as part of the music resources that will accompany the changes to the Roman Missal, which will be implemented the first Sunday of Advent.
The spotlight will be "almost like a musical short course to us," allowing the composers to teach the music, which is both prayerful and spiritual, Hurley said. "I think the people that attend will come away from it filled … with the Holy Spirit."
Everyone who attends the event will receive a CD of the composition and will be entered into a drawing for an iPod loaded with the new Mass as well as all of David Kauffman's music.
The conference organizers also have arranged for a special tour of Temple Square.
"What we're going to do is take them all over to the Tabernacle and have them all sit in the choir seats, where the choir sings," said Elder Ben Banks, who with his wife, Susan, is director of Church Hosting for The Church of Jesus Christ of Latter-day Saints.
Those on the tour will have a chance to ask questions of Ryan T. Murphy, assistant choir director for the Mormon Tabernacle Choir, as well as one of the organists, Elder Banks said. "This is a golden opportunity to do something we don't do for all our guests."
Elder Banks has had several interactions with members of the Catholic Church. He helped organize last year's visit by Francis, Cardinal George OMI to Brigham Young University, and while he was in the Philippines he was on a forum with Bishop Jaime Sin, who later was appointed a cardinal.
As directors of church hosting, he and his wife are tasked with acquainting people with the LDS Church, Elder Banks said, "make them understand what we're doing and answer any questions they may have … about our faith so they have a greater understanding and appreciation for what we're trying to do."
The tour in conjunction with the liturgical conference "is a wonderful opportunity for us to show your group that is coming here some of the things that we are doing," he said.
In addition to the half hour at the Tabernacle, the tour will include Temple Square, the conference center and, time permitting, the Family History Center, Elder Banks said. "We think it is a wonderful opportunity for them to find out more about us and for us to find out more about them. We hope that they get a better understanding of who we are and dispel some of the misconceptions that many people have about our church."
The tour will be a good preview for one of the conference workshops, "Catholic Identity in a Mormon Culture," Hurley said. That workshop will be presented Feb. 4 by Deacon Scott Dodge.
For conference information or to register, visit www.swlcslc.org.