Sr. Kathleen Moroney retires from HCM, 'is already missed'
Friday, Jun. 23, 2017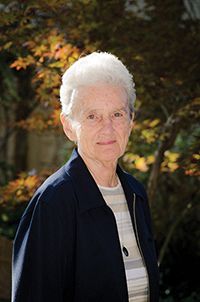 + Enlarge
SALT LAKE CITY — Holy Cross Sister Kathleen Moroney, who has worked at Holy Cross Ministries for 17 years, retired on May 31. She founded HCM's Legal Immigration Program, which served over 1,500 people in 2016. Nine people now work in the program, but it began in September of 2000 as "a department of one," Sr. Kathleen said.
Sr. Kathleen was born in Washington D.C. and grew up in Kensington, Md., which is about as far east as you can possibly go without walking into the ocean, she said, laughing. She professed her first vows as a Holy Cross Sister on Feb. 2, 1960. She graduated from the University of Notre Dame's law school, but corporate legal work left her feeling unfulfilled, she said.
"I really wanted to do something more directly dealing with people," not just with policies, she said. So she left for Brazil in 1987, where she served as a missionary for two years. Her time there was "a real gift," Sr. Kathleen said.
After returning from Brazil, she began contemplating making another trip there and continuing her service. However, "My mother was … always worried so much about me being in Brazil," Sr. Kathleen said.
To put her mother's mind at ease, she wondered what she could do in the United States.
Her search for a new project to invest her time in led her to Holy Cross Ministries in Utah, which at that time was sharing a building with Catholic Community Services. Sr. Kathleen asked Aden Batar, the director of CCS' Immigration and Refugee Resettlement Program, if her law degree could help anyone in Utah, she said.
Batar opened her eyes to the daily hardships that immigrants were dealing in Utah, Sr. Kathleen said; many of them lacked knowledge of how to navigate the immigration legal system, she said. Many people were struggling to find a place in a new and entirely different community, and many immigrants who had come to America illegally lived in fear, terrified of attempting to become a legal citizen in case they were discovered and torn away from their families, she said.
The Sisters of the Holy Cross' purpose is to meet unmet needs, and "legal immigration is a huge unmet need," Sr. Kathleen said.
Sr. Kathleen's work in legal immigration has "benefitted us a great deal," said Maria Farrington, president and CEO of Holy Cross Ministries. "It's in true alignment with our mission: to serve the underserved."
Immigration law is incredibly complex, she added, and to meet immigrants' needs in this area, where oftentimes immigrant families' lives in America are at risk, Sr. Kathleen worked hard.
Through Sr. Kathleen's hard work and dedication over the course of close to two decades led to the creation of Holy Cross Ministry's Legal Immigrant Program as it stands today, Farrington said.
"(Sr. Kathleen) is a pistol," she said, laughing. "She has a lot of energy, (and) she's extraordinarily focused … on her job."
Sr. Kathleen's skills in law are unmatched, Farrington said. "She's the kind of lawyer you or I would want to have."
Not only has all of Sr. Kathleen's work created a strong program that now has three lawyers on staff to serve immigrants, it has had another effect, said Monsignor J. Terrence Fitzgerald, vicar general emeritus and the administrative assistant to the Bishop of Salt Lake City.
"Her legacy is in all the people she touched," Msgr. Fitzgerald said, adding that although the physical things like the Legal Immigration Program that people create must inevitably fade away, the impact they make on people's lives will never disappear. Although "some people say we have nothing to show for it, the legacy is there in the footprint. … (Sr. Kathleen) touched all of us" through her legacy, Msgr. Fitzgerald said.
"Sr. Kathleen will be very missed," Farrington said. "She is already missed right now."
Though Sr. Kathleen is returning to her family in Maryland, she's not quite through with helping people yet, she said. One of her favorite things about working at Holy Cross Ministries was seeing the results of hard legal work come to fruition as an immigrant was able to become a legal U.S. citizen. "Those are the things that are really rewarding, to provide people what they need to come out of hiding, … to not have to look over their shoulders anymore," Sr. Kathleen said.
When she settles into her new life in Maryland, she hopes that she can experience that feeling again and help more people in need, she said. "We need to treat people with care and compassion and to be the best of the best," she said.
Fast Facts
In 2016, Holy Cross Ministries:
Served more than 4,300 individuals:
69 percent did not have health insurance,
58 percent were living in poverty.
The Promotora Outreach Program provided 1,457 low-income families with basic health care needs:
592 referrals were made for critical services,
176 prenatal classes were provided;
As a result of these programs, 67 percent of those who received services now have health insurance and 53 percent of the women surveyed said they had changed their lifestyle to achieve a healthy pregnancy.
Offered education programming to 586 children from age 0 to 12:
78 percent of the 3-year-olds met or exceeded the language benchmark for their age group,
95 percent of elementary-aged students from HCM's programs reported a 24 percent increase in academic behaviors,
82 percent of the 3-year-olds met or exceeded the literacy benchmark for their age group.
Provided legal immigration services to 2,343 people:
1,232 consultations were given to determine immigration options for family unification, asylum, citizenship or legal residency,
42 individuals benefitted from a new pro-bono asylum project that involves six partner agencies
157 applications were submitted for victims of crime who cooperated with law enforcement to bring their perpetrator to justice,
100 percent of those who, with the help of the HCM program, applied for citizenship and took the naturalization test passed on their first try and became citizens.
Source: Holy Cross Ministries
You Can Help:
Holy Cross Ministries is in need of donations and volunteers. Many positions require Spanish-language skills, but administrative help also is needed. In addition, two seats are open on the Holy Cross Ministries' Board of Trustees. For information, visit hcmutah.org or call 801-261-3440.
HCM's Autumn Harvest Benefit will be Saturday, Aug. 26, beginning at 4 p.m. at the Dejoria Center, 970 UT-32, Kamas. For tickets, visit http://hcmutah.org/autumn-harvest-benefit/.