Sr. Marilyn Mark will be greatly missed
Friday, May. 17, 2019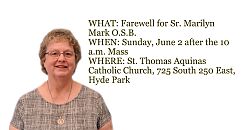 + Enlarge
LOGAN — Forty-one years ago Sister Marilyn Mark, a Sister of the Order of Saint Benedict, made her perpetual monastic profession, which embraced her permanent commitment to the obedience, stability and fidelity of the monastic way of life.
Since her commitment to the religious life, she has served in various parishes and centers in the northern part of Utah and in Minnesota. Since 2012 Sr. Marilyn has served as the pastoral associate of St. Thomas Aquinas Parish and as the campus minister of the Utah State University Newman Center, where she served as director from 1991 to 2002.
Now Sr. Marilyn is retiring. To honor her St. Thomas Aquinas Catholic Parish in Logan is putting together a farewell celebration that will take place on June 2.
Sr. Marilyn heard a call to the religious life since she was in 5th grade, she said.
"I knew God had a plan. … After my Confirmation, I felt this presence in my life that I never felt before," she said.
Despite that presence, she continued her lay education.
"When I was in high school is when I really started thinking seriously about this vocation, that God kept speaking to me in my prayers," she said.
She enrolled in Weber State University and got a music degree. She played the organ at the parishes of St. Joseph and St. James in Ogden, then went to Price to teach music at Notre Dame School (now closed). There she met some people who were familiar with the Benedictine order, "and they told me they knew that I was thinking about the religious life, and that the only place they could see me was with the Benedictine sisters," Sr. Marilyn said.
When she inquired with the order, she received a letter asking about her feelings about values such as community life and liturgy.
"I said 'yes' to everything and applied there, and got accepted," she said.
Among her assignments was that of vocations director of the Mount Benedict Monastery in Ogden. When the monastery closed she moved back to the mother house in Minnesota, then returned to Utah for her ministry in Logan.
Mary Garrett, the finance director at St. Thomas Aquinas Parish, has known Sr. Marilyn since she came to Logan in 2012.
"She has been a joy. … She has done so much for all of us here at St. Thomas," Garrett said. "We are just so fortunate to have her here. … All of us are going to miss her dearly."
Nicole Held, a religious education coordinator at St. Thomas, has been in the choir with Sr. Marilyn since 2012. For her Sr. Marilyn has been a wonderful friend and mentor.
"She has seen me grow as a singer and a Catholic in the many years she has been at St. Thomas Aquinas," said Held, adding that she considers that one of the biggest contributions Sr. Marilyn will leave at the parish and at the Newman Center is the organization of the choirs.
In addition, Sr. Marilyn has been great about "choosing beautiful, appropriate songs for every Mass – bilingual as well as English-only, helping couples plan weddings, helping families plan funerals, boosting our choir in summer with Festival Opera singers, getting a grant for purchasing new hymnals, creating beautiful liturgies for Easter and other special Masses, including the youth and Newman [Center] musicians," Held said.
She also shared that one of her fondest moments about Sr. Marilyn is when they went together to the 2018 Southwest Liturgical Conference in Wyoming.
"We both share a love of music, so going to this particular conference was perfect as the theme was 'Awaken the Voice,'" Held said. She also recalled fond memories of the two of them choosing songs for Masses, eating chocolate together, getting ice cream at the old Dairy Queen, and "great lunches that she would make and share at work, homemade raspberry scones and chicken soup," said Held, adding that having a consecrated woman at the parish has been a great "example of a holy life to all the young people in our parish [and the Newman Center]."
Held said she is grateful for Sr. Marilyn's time at the parish.
"We will miss her greatly in all her various ministries: Newman, music, communion to the sick, pastoral care to sick and dying, wedding planning, funerals, and liturgy, liturgy, liturgy. In many ways, she defined St. Thomas Aquinas as a parish – always welcoming others and seeking out those who needed consolation during illnesses or loss of loved ones, but also as a liturgical coordinator who knows the 'rites' and wrongs," Held said. WHAT: Farewell for Sr. Marilyn Mark O.S.B.
WHEN: Sunday, June 2 after the 10 a.m. Mass
WHERE: St. Thomas Aquinas Catholic Church, 725 South 250 East, Hyde Park