St. Andrew's food pantry has 12 percent growth
Friday, Mar. 09, 2012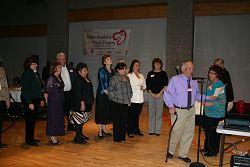 Intermountain Catholic
+ Enlarge
RIVERTON — Saint Andrew Food Pantry held a volunteer appreciation dinner at Saint Andrew School Jan. 28, to thank all those who make it possible to serve over 1,200 people each month.
"The volunteers are our lifeline; they keep us going," said Mary Ann Garcia, St. Andrew food pantry co-chairwoman. "People are starting to recognize us, such as Volunteers of America, Latinos in Action and various area high schools, and are sending volunteers to help."
Walt May, Utah Food Bank distribution manager, said the St. Andrew Food Pantry received 116,936 pounds of food in 2010 and fed an average of 200 families and 940 people per month; in 2011, St. Andrew received a 12 percent increase, with 131,412 pounds of food and served 12,391 people.
The food pantry started in 2008 when both the Catholic and Lutheran parishes were holding services at a movie theater in Riverton while building new churches. "We wanted to perform community service together, so Father Francisco Pires (then pastor of St. Andrew) suggested the food bank," said Jess Smoyer from Christ the King Lutheran Church. "We serve people in West and South Jordan, Riverton, Herriman, Bluffdale and Draper."
The food pantry started with a parish food drive. "We quickly realized we needed more and started shopping sales, but that was too expensive and our needs kept growing so we approached the Utah Food Bank for assistance," said Garcia. "Each week Azteca Distributors also donate bread, tortillas, chips and Mexican candies."
With the $25,000 St. Andrew received last year from Walmart's "Help Fight Hunger" campaign, the food pantry purchased six commercial freezers and five commercial refrigerators.
"Now we are able to receive eggs, meat, fresh produce, milk and dairy products from the Utah Food Bank's Grocery Rescue program," said Garcia. "These are items that grocery stores would otherwise discard because of their expiration dates. We've outgrown our space in Father's basement so we also purchased two storage sheds."
Smoyer said the volunteers make it possible to handle the large number of families they serve. "We have at least three or four times the number of volunteers we had in the beginning," he said. "Last Thursday night we had 77 families huddling in the rain waiting to get their food and we needed to get them their food quickly. It was like a choreographed dance with all of us working in the painfully small space.
"About 60 percent of those served at the food pantry are children," Smoyer continued. "We are also helping people who might not be able to turn to other places for help because of their incomes or because they might not be documented. All we ask is that they live in the communities we serve. Most of the people we serve are the working poor. The Food Bank figures that every box of food we hand out provides about 15 meals each month."
St. Andrew is listed on the 211 hotline, said Mary Jane Smith, St. Andrew Food Bank co-chairwoman. "We have increased the number of families we help through the hotline and word of mouth," she said. "We have so many churches and schools who also hold food drives for us."
Linda Goffaux and her husband have been volunteers at St. Andrew since it began. "The growth we've experienced has been phenomenal," she said. "It's very heartfelt to see the faces on people light up when they come in for the food, especially those who find it difficult to ask for help. We also offer them emotional support and let them know it's OK to need help."