St. John the Baptist students succeed at Science Olympiad
Friday, May. 20, 2022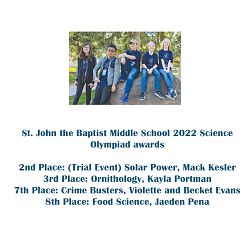 Photo 1 of 2
DRAPER — Nearly 10 years ago, as part of the philosophy that Saint John the Baptist Middle School students should be well rounded and well balanced in life, the Science Olympiad team was formed.
"Initially (the Science Olympiad team) was being offered as an elective class and then as an extracurricular activity/club after school," said Felixcia Blanchard, one of the school's science teachers, who guides the team.
The Science Olympiad "is a nationwide organization dedicated to improving the quality of science education and increasing student interest in STEM," states the Utah Science Olympiad web page. "It is a great chance for students to take their classroom learning and apply it in a fun and exciting way."
In addition to the club activities, Science Olympiad students have the opportunity to compete in events. They were unable to participate in the state Science Olympiad during the past two years because of the pandemic. However, "this year, the 2022 season, SO returned with a great group of students," Blanchard said.
Those students demonstrated their skills at the state competition that took place on April 9 at the Southern Utah University in Cedar City, bringing home four top 10 finishes.
This year, the SJBMS Science Olympiad team placements were very diverse, encompassing wins in the fields of solar power, ornithology, crime busters and food science.
"I think it could mean that SO is a great way for the school to offer students the ability to branch out from regular core science to specific science disciplines that interest them," Blanchard said. "Having the school be a part of SO extends the science classroom and opens new windows of opportunity for the students."
The students' exposure to the diverse subject areas that they might pursue opens opportunities for their future, she said.
"It's important to show our youth all of the wonderful opportunities science can offer for fun or for potential careers. … With such a diverse selection, students are able to match their personal interests with a discipline that they may not have known about before," Blanchard said.
Coaching the SJBMS Olympiad team members is enjoyable, she said. "As a coach the best part was being with the students and watching them have fun and problem solve."
SJBMS students have access to several science programs, some managed through the school, some overseen by Juan Diego Catholic High School coaches and volunteers.
The middle school and high school, along with St. John the Baptist Elementary School, are located on the Skaggs Catholic Center campus in Draper.
St. John the Baptist Middle School 2022 Science Olympiad awards
2nd Place: (Trial Event) Solar Power, Mack Kesler
3rd Place: Ornithology, Kayla Portman
7th Place: Crime Busters, Violette and Becket Evans
8th Place: Food Science, Jaeden Pena