St. Joseph CHS art teacher retires after 35 years
Friday, May. 20, 2022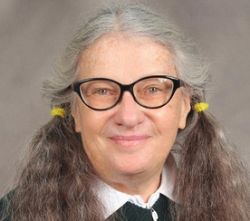 Courtesy photo
+ Enlarge
OGDEN — After more than 35 years in Catholic education, Peggy Barker, the art and psychology teacher at Saint Joseph Catholic High School in Ogden, is retiring.
Born in North Ogden to a large family established by pioneer ancestors, Barker attended Weber State University on an art scholarship. She graduated with a degree minoring in art, psychology, anthropology and education.
Before arriving at SJCHS, Barker taught at the Intermountain Boarding School in Brigham City.
"I started teaching at St. Joseph Catholic High School in the fall of 1986. It was a struggle to transition from nine years of working with Native American students to our much more talkative students here," said Barker, who has taught studio art classes, art history, psychology and yoga.
She said that very quickly she began to appreciate the students, and found great administrative support.
Teaching in a Catholic school has advantages, she said.
"I loved having a smaller student body compared to the public schools. I also found the students to be very well behaved and many academically inspiring," Barker said.
Over the years at St. Joseph she has met many wonderful students, parents and families, Barker said, and "interacting with these young people has been a great blessing in my life. I have come to love the students, each as unique individuals. The chance to get to know them, even a little bit during their time here, has enriched my life."
Having been a teacher at SJCHS for almost half of her life, Barker said that her decision to retire came primarily based on her age. "I will be 70 years old this summer. It seems that it is time for another, younger, teacher to come in and learn and make a difference in the lives of these students."
Although she won't be returning to the school in the fall, she plans to keep busy. "I hope to do some work on my house, spend a lot of time hiking, and visit many people who have been important in my life," she said.
Thinking about her retirement brings tears to her eyes.
"I want to cry just thinking about what a blessing and gift it has been in my life to work at St. Joseph Catholic High School. The other teachers, staff, parents and, most importantly, all of the students I have been able to spend time with – the community – 35 years of meeting and working with people here," said Barker, adding that every student she has crossed paths with has taught her something.
"Working every day with these young people, there have been stories every day. We have shared arts, crafts, yoga, psychology, art history and our journey through life," she said.
"Mrs. Barker is one of the kindest souls I have ever met. She has always been a positive force in the lives of all who encounter her in the St. Joseph community," said Clay Jones, principal at SJCHS.
Jones said that the school will always remember Barker's senior desks, her wall of fame (or shame) paper mache masks, and working all artistic media within one classroom.
"Mrs. Barker is a sight to see, allowing for the artistic talent of any student to shine through. My own son once told me that he didn't want to take art because he wasn't any good at it. He took Peggy's class and about a month into it, he stated that he was actually pretty good," Jones said.
"Mrs. Barker will be missed dearly by me, the students, her colleagues, and our entire community, however, she has promised to come around to help out with some special projects. We all wish her the best of luck," Jones added.