St. Joseph sophomores live the Gospel
Friday, Jun. 08, 2012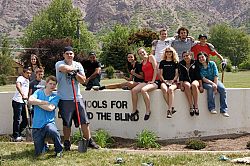 Saint Joseph High School
+ Enlarge
By Rachael Sutherland
Special to the Intermountain Catholic
OGDEN — Sometimes giving begins by taking something away. Weeds that is….
On May 10, sophomores from Saint Joseph Catholic High School lent a hand and a spade to beautify the Utah School for the Deaf and Blind. Organized by student Elizabeth Toman and theology teacher Corbin Johnson, the 48 high school students spent the day gardening, pulling weeds, cleaning and planting.
The project began when Toman was talking with her basketball coach about why he encourages young people to get involved in sports; he told her that someone encouraged him, so he encourages others.
"The conversation got me thinking about what our school could do to help others. My coach has a connection to the [Utah School for the Deaf and Blind] and that got me going," Toman explained.
It was a great way for the high school students to give something to someone else. The students got a chance to work together in their community and the fact it was another school was a bonus. A student commented, "My favorite part was spending time with friends outside of school in a beneficial way."
The students worked for hours on the front of the school, bringing the planters, borders and places where there used to be plants and flowers back to life.
"It was a lot of hard work at first, hot and just hard work, pulling weeds from the dry dirt, but it was great seeing the final results," said Will Carrington.
The sophomore curriculum focuses on the Paschal Mystery and how Jesus Christ's mission continues in the Church today. Jesus' mission is one of unconditional love for one's neighbor.
"We can sit in the classroom and discuss the parables and actions of Jesus until our faces turn blue, but actually getting out and serving our neighbors gave us an actual experience of living the Gospel," said Johnson, project advisor and sophomore theology teacher. "It is fortunate we have resources for the hearing and vision impaired in Ogden but we have very little exposure to the world of the deaf and blind. I know many students were moved by playing with the second graders. More than anything, I think we were able to connect with a seldom-encountered segment of the population and share in profoundly humanizing interactions."
"We even got a chance to play with the kids from the school," commented SJCHS sophomore Kelsie Gould. "That was the best part of the day!"
Sutherland is an incoming junior at St. Joseph Catholic High School.