St. Joseph urges parishioner to 'look at me'
Friday, Nov. 26, 2021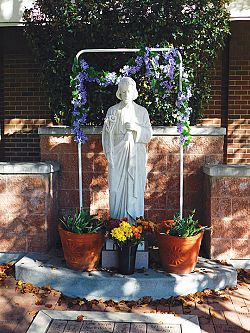 Intermountain Catholic
+ Enlarge
SALT LAKE CITY — That cold afternoon as Fanny Vernal was returning to her office at Saint Ann Catholic Church, where she works as the receptionist and parish secretary, she was overwhelmed by a feeling to pass by the statue of St. Joseph that stands in a small garden outside the building.
At first, she didn't think the feeling was particularly strange. "I have been praying to him for a special intention," she said.
However, as she passed by the statue, she felt like someone was saying, "'Turn around. Look at me,'" she said.
"That made me wake up to the realization that we are in the Year of Saint Joseph, and this will end soon," Vernal said.
The Year of Saint Joseph announced by Pope Francis began last Dec. 8 and will continue through this Dec. 8. It is dedicated to Joseph, husband of Mary and earthly father of Jesus Christ.
Approaching the statue of St. Joseph in the garden of St. Ann Parish, Vernal realized it was in bad shape. Ashamed, Vernal said to the saint, "Here you are all dirty and abandoned and I am asking you for things and I have not been paying attention to you."
Deciding to remedy that, Vernal ignored the cold weather, and with soap and water washed the statue carefully from head to toe.
"As I started cleaning him, I felt like someone was watching me, and a feeling of peace and love invaded my whole being," she said.
When the statue was clean, she placed an arch of flowers over it. Looking at the results, she said, "Look, St. Joseph, I am doing the best I can, but there are a lot of homeless people that come and sleep here next to you. … I don't know if they really take good care of you, but look, St. Joseph, I am primping you up and hoping no one ruins your decorations."
In the weeks since then, her fears have remained unfounded.
"I felt like he really wants to let me know that he is here with me every day," said Vernal, who realized as she cleaned the statue that it had been vandalized. One of the eyes and some of the flowers had been spray-painted, and the nose had been broken.
Seeking assistance with the repairs, Vernal eventually got in contact with Paul VandeDeegaete, a member of the Knights of Columbus at Blessed Sacrament Parish, who had restored the statue of Mary at St. Ambrose Parish in Salt Lake City after it had been vandalized.
When Vernal told VandeDeegaete her journey with Saint Joseph and her sadness about the statue's condition, "I could tell that she was really sensitive and hurt that somebody could tear the statue down without caring about the saint," he said. "So I told her that when the weather gets better I will repair it. It really makes you feel good when you are able to repair something so meaningful."
Giving back to the community is always a blessing, he said. "You feel like you are doing something for the good of someone else and that makes you feel good."
When he repairs a religious symbol, "I always feel that God is right with me at the time," said VandeDeegaete, who is seeking a stone that will match the St. Joseph statue and making plans on how to repair its nose.
"It will be quite hard to find a stone that matches completely, but I love to be part of this journey," he said.
Meanwhile, Vernal's work has borne more fruit. Another St. Ann parishioner, Dana Doro, undertook decorating the statue of St. Joseph that is inside the church. Then, members of the parish's Legion of Mary planned a novena honoring the saint at the end of the Year of St. Joseph. The novena will be Nov. 29-Dec. 7.
Also on Dec. 7, Holy Cross Sister Patrice McGee, who teaches religion and preK/ kindergarten at Kearns Saint Ann Catholic School, will take the students to visit the St. Joseph statue to learn about the saint's life. The school is adjacent to the parish.
"This turned out to be a community calling," Vernal said.