St. Martin de Porres parishioner celebrates 73rd wedding anniversary
Friday, Apr. 13, 2018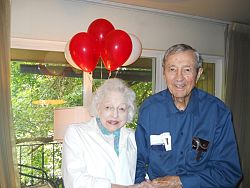 Courtesy photo/Thomas O. Breitling
+ Enlarge
SALT LAKE CITY — From the jungles of Honduras to the snow-capped mountains of Utah, Tom and Mary Alice Breitling have been through thick and thin together in their nearly 74 years of marriage.
The two met at a 1943 Thanksgiving dance at the University of Alabama, where Tom was studying engineering. He had gone to the dance with someone else but noticed a tall, very attractive blonde girl dancing with an Air Corps soldier. Tom cut in, much to the chagrin of her partner, who, Tom said, was evidently very much in love with the girl. During that one dance Tom learned her name, Mary Alice Clark, and that she was from Jackson, Miss.
A few days later when Tom phoned his original date, she told him "the blonde girl from Mississippi" wanted him to ask her out. Tom got Mary Alice's number and asked her out that evening. Over then next few months, the two dated as often as they could.
Tom, who had enlisted in the Army, had been told to continue his education at the university while he awaited orders. After his March 1944 graduation, he trained for 17 weeks at Ft. Belvoir, Va. He invited Mary Alice to his graduation from the program.
"Mary Alice wore a lavender sweater and was looking beautiful," Tom recalls.
The couple borrowed $65 and, after the ceremony, they drove to Farrsville, Md., where they were married by a Methodist minister. Shortly after, Tom and Mary Alice visited her parents to tell them the news.
"Her dad was upset," Tom said. "He was telling me all he had planned for her. 'I'll make sure it all happens,' I told him."
On Jan. 5 1945, Tom shipped out to a posting in Calcutta, India and then later to another in China, where he was in Service and Supply. After the war, he was sent to New Delhi as part of the Foreign Liquidation Corps. In the meantime, Mary Alice had given birth to their first child. Tom asked his commander to allow him to make it home to Mobile, Ala. for his daughter Donna Kathryn's first birthday, which he did.
After he was discharged, Tom held a variety of jobs, but having developed a fondness for the tropics, he signed on as a single man (the only opening at the time) to work on a Honduran banana plantation for United Fruit Co. He was able to bring Mary Alice and Donna Kathryn to join him three months later.
Returning to the United States, Tom worked in various jobs in Mississippi and Colorado over the course of several years. The family grew to include four more children and finally ended up in Utah in 1969 when Tom went to work for Kennecott Copper. He subsequently worked for IMCO and retired from Hercules in 1990. These days, the couple lives in Holladay.
"Moving all around the different places with the children, that was pretty hard," Mary Alice said. "There was a lot of adjustment, but I just went with the flow and did the best I could. We tried to become a part of the community wherever we went."
Ten years into their marriage, Tom decided to become a member of the Catholic Church to have his sins forgiven, he said. His wife looked into joining too but, Tom said, "it didn't work out."
For a time, the difference in religions strained their marriage as Tom, filled with zeal for his newfound faith, began to pressure Mary Alice and the children to convert. That ended when he received a letter from the priest who had baptized him, Fr. Josiah Chatham, reminding him that the vows they had made upon their marriage were made as Methodists in a Methodist church; Tom needed to respect that and Mary Alice's choices, the priest wrote.
Tom took Fr. Josiah's advice to heart; today Mary Alice remains a member of Christ United Methodist Church, while Tom attends St. Martin de Porres Parish. For their 73rd wedding anniversary, the couple was treated to a lobster meal by employees of the Red Lobster in Murray, Tom said.
To keep a marriage going strong through so many years you "have to have a lot of patience, be willing to discuss things a lot and keep the peace between the children and parents," Mary Alice said.
In 1998 Tom was diagnosed with cancer. A surgery to remove carcinoid tumors in his small intestine was only partially successful because one was wrapped around his aorta, and he was given six months to live. Those six months have turned into 20 years, something for which Tom is very thankful.
These days, Mary Alice, who suffers from spinal stenosis, is housebound and requires nursing care in addition to the help Tom provides.
"I've been blessed to be able to do for her," he said. "For 71 years, there was no end to her working to raise our five children and to take care of me. She is a fabulous woman."