St. Mary parishioner honored for 90th birthday, more than 60 years as First Communion teacher
Friday, Jan. 11, 2019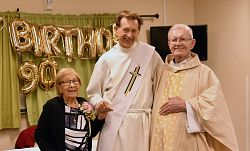 IC photo/Marie Mischel
+ Enlarge
WEST HAVEN — Generations of First Communion students at St. Mary Parish have passed through the classroom of Mary Mendez, who has taught the class for 60 years. For more than 50 of those years, she also served as the parish's director of religious education.
"She has been a great blessing to this parish for a long time," said Deacon Jack Clark, who has known Mary since he moved to the parish 30 years ago. His daughter went through Mary's class, which was then held in the basement of the chapel on Pennsylvania Avenue in Ogden, before the new church was built in West Haven.
"Mary's biggest strength is that she's very honest and loving and caring," the deacon said. "She conveys that, and the children know that, and they know if they're with her she insists that they listen to her – she's not a pushover, but she is very kind and gentle with them."
Although Mary stepped down as the parish DRE several years ago, she continues to teach the second-graders preparing for First Communion. "That's been her joy and continues to be her joy. As long as she can manage it, we're happy to let her do it," Deacon Clark said.
A lifelong member of St. Mary Parish, Mary earned a master catechist certificate, and throughout her years as DRE, she encouraged many of those who teach religious education at the parish.
Mary is an inspiration, said Emily Miller, who helps with the First Communion class. "The love she has for God and the way she spreads that through her teaching – it just keeps me wanting to keep coming back to church and wanting to come back to teaching."
Acknowledging that many of her peers are away from the Church, Emily, who is 18 and began teaching as a way to fulfill the necessary community service hours for her Confirmation class but has continued to do so for four years, said Mary "really keeps me coming back. … She's very passionate. Even though she's teaching to 8-year-olds, she makes sure that she gets the point across on how important God is in your life and everything that you do. She just really wants everybody to understand that he's important, even if you're 8 and maybe don't understand everything."
Similarly, Dani Guillot, the daughter of Mary's niece Maddy Guillot, helped teach religious education for about eight years. Mary "helps anybody around her," not for recognition but because she feels it's a good thing to do, Dani said. "She makes you want to do better."
Mary was born on Jan. 9, 1929 in Aguilar, Colo. to José and Emma Garcia. She graduated from Davis High School, then earned a degree in accounting at Weber State University. In 1948, she married Ruben Mendez, who died in 2008. They had four children, who all graduated from St. Joseph Catholic Schools. Mary worked for the federal government for 35 years and for many years was the treasurer for the Federal Women's Association. After retiring, she went to work for the El Matador Restaurant for 25 years.
A celebration honoring her 90th birthday was held at the parish on Jan. 5.
Marcus Mendez, the oldest son of Mary and Ruben, said faith played a large part in his parents' life. They were great role models, he said; he himself is active in the Church. "She was a tough task master but she lived her faith and she wanted her family to live the faith," he said.
His brother Joe said their father worked two jobs for 40 years to put them and their siblings through Catholic schools. "They valued the Christian Catholic faith, they valued the education. … They wanted to do for us kids what they were not able to do as children."