St. Olaf School begins orchestra program
Friday, Jan. 29, 2021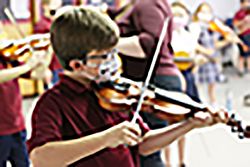 Courtesy photo/St. Olaf Catholic School
+ Enlarge
BOUNTIFUL — As part of St. Olaf Catholic School's 60th anniversary celebration, a new orchestra program has been started, with plans to build it over the next several years. The orchestra program will include instruction in violin, viola and cello.
Last fall, the program began with students in grades three through five learning the violin, said Katie Bakker, the school's communications and advancement director.
"As our eighth-graders observed the success and enjoyment these students were having, they requested to learn as well," she said.
Over the next five years, the program is designed to add second-grade students, as well as a middle-school elective program "for students who want to continue with a string instrument past fifth grade," said Simon McFall, principal.
The Saint Olaf Strings Program has its roots in the school's ethos, he said.
"Since Saint Olaf's inception, music and arts have been core to our school's quality education. As we began a discussion over a year ago about developing a signature music program to stay true to who we are as a school, we looked at the benefits of several different options," he said.
After examining several options, officials settled on a strings program.
"Ms. Rachel Dodge [music teacher] was happy to teach them as well, once she had student and parent commitments," Bakker sai. "Her plan for the program is to add a violin/viola prep class for second-graders, who will begin using foam instruments to become familiar with holds, bow technique, strings, notes, etc."
As the program progresses, it will add the viola, and eventually the cello.
The third-graders and eighth-graders attend violin classes three days a week, while the fourth- and fiftth-graders attend twice a week," Bakker said.
Students can choose to continue with their instrument beyond the fifth grade "or may take music theory, if they would prefer," she said.
The students now in fifth grade will have the opportunity to continue the program through their eighth-grade year. Eventually, students in grades two through eight will be in the program, she said.
The school acquired a grant to cover the costs of getting the program started; with the funds they purchased approximately half the needed violins.
"There are 60 students in the program this first year, and not quite half of the families rent violins from the school," Bakker said. "The other half of parents purchased or rented violins from outside sources."
St. Olaf officials expect that the students participating in the orchestra will "build the capacity to think critically, engage in self-directed learning, and problem solve, understand cultures beyond their own and valuable communication skills," among other benefits, Bakker said.
"Music is key to the liturgy, and we hope that our students will play during both school and parish Masses as they progress," McFall added.