St. Olaf students see new programs this year
Friday, Aug. 26, 2022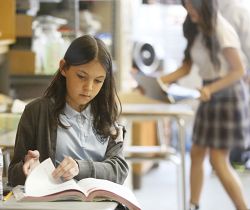 Courtesy of Saint Olaf Catholic School
+ Enlarge
In trying to highlight one exciting event or program for the 2022-23 school year at St. Olaf Parish Catholic School, we decided there are too many exciting changes to pick only one. Aside from the 18,000-square-foot addition construction project currently forging ahead on campus, we are adding several new programs.
In response to parent and student anxiety over recent school shootings and ongoing questions of how to prevent such violence, St. Olaf will be partnering with the Choose Love Movement, and we will host Scarlett Lewis in our September roll out of the program.
According to the website https://chooselovemovement.org/the-story-behind-the-movement,"Scarlett Lewis founded Choose Love Movement after her son, Jesse, was murdered during the Sandy Hook Elementary School tragedy in December 2012. It is one of the worst mass shootings in U.S. history. At 6 years old, Jesse, alongside 19 of his first-grade classmates and six educators, died. Yet law enforcement says Jesse used his final moments to heroically save nine of his friends. Shortly after his death, Scarlett decided to be part of the solution to the issues that we're seeing in our society today – and that also caused the tragedy. She created the Choose Love Movement and became an advocate for character development and social and emotional learning (SEL), which teaches children how to manage their emotions, feel connected, and have healthy relationships."
Among our classroom activities, St. Olaf Middle School students will be doing entrepreneurial course work through the Boss Club Foundation. Parent surveys highlighted a need for real life, real money, budgetary and planning experiences to help prepare students for the "real world" and adulthood.
The https://bossclubfoundation.org website states, "It's one thing to read about business or learn to write a business plan, but our entrepreneurs put those steps into action and actually launch a real business. By creating a real business even for a few weeks, our entrepreneurs walk away changed forever."
In searching for more after-school club options that include faculty, middle school math/science teacher Mr. Stokes, will continue his highly successful and popular Math Lab Program. Who can argue with an increase from 49 percent of students on or above grade level for 2021 end-of-year ACT ASPIRE testing to 89 percent in 2022? That's a 40 percent increase in one year.
We will also add the Girls on the Run Program, with our middle school social studies/religion teacher, Mrs. Braukmann running the program – no pun intended.
Check out Principal McFall's informative podcast with Anna White, Hallow school liaison, on how our partnership came about and the story behind the creation of Hallow, as a program and as the #1 Catholic App in the World. We are thrilled to be the first Utah school partnership with them. Find the podcast episode at https://anchor.fm/saintolaf.org/episodes/Saint-Olaf-Catholic-Parish-School-Partners-with-Hallowe1ls7n1.
A few final additions and returns are our teacher/student Advisory Program for Middle School as well as a Student Leadership program, offering students in grades 4-8 opportunities to serve on five different committees. With a full middle school, we can't wait to see our students rise to new challenges.
Lastly, students in grades 5-8 will be participating in StarBase Hill, a highly rated science program offered through Hill Airforce Base to garner excitement for STEM (science, technology, engineering, and math).
Courtesy of Saint Olaf Catholic School