St. Rose of Lima hosts Lenten parish mission
Friday, Apr. 13, 2018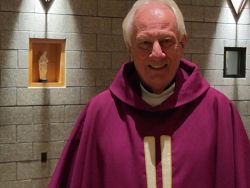 Courtesy photo
+ Enlarge
By Kevin Cummins
Special to the Intermountain Catholic
LAYTON — Members of the St. Rose of Lima Parish community spent three days in March learning from Fr. Richard Gielow. At Masses held on March 19-21, Fr. Gielow talked about the things that are necessary for the Christian life.
"The main thing is to keep the main thing the main thing," he explained on the first day of the mission. He went on to talk about the nature and necessity of prayer and the importance of the Eucharist. He peppered his homilies with personal stories, relating each day's topics to his own life experiences.
Fr. Gielow is one half of a pair of twins. His brother Robert is also ordained and serves in the same religious order. On some occasions they travel together and share the same mission in a parish. Over their careers both have served in a variety of roles, including a stint as the chaplains for the Chicago Bears football team.
In the second and third days of his mission, Fr. Gielow explored how to get to heaven and why Catholics need to have joy and to show that joy to the world. He reminded the parishioners that Jesus said that he came so humankind could have joy.
"I could feel his deep energy for the love of Christ," parishioner Marty McMerrick said.
Each Mass was followed by a reception that allowed members of the community to talk to Fr. Gielow one on one.
"It was a very spiritual mission for our parish family in this Lenten season," Fr. Clarence Sandoval, pastor of St. Rose of Lima Parish said. "I and others were moved by his stories and how he connected his journey to the story of Jesus."
Reflecting back after the last night of mission, Fr. Gielow said, "The people of St. Rose of Lima know what the main thing is because they keep the main thing the main thing."
Kevin Cummins is a St. Rose of Lima parishioner.