St. Therese of the Child Jesus Church is dedicated
Friday, Oct. 02, 2009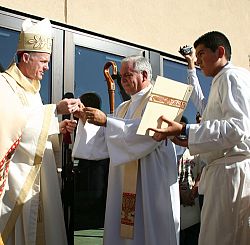 Intermountain Catholic
Photo 1 of 3
MIDVALE — "All are welcome in this place" was sung as the standing-room only congregation came into the beautiful new chapel of Saint Therese of the Child Jesus Sept. 27.
The Most Rev. John C. Wester concelebrated the Mass with Father Martin Diaz, pastor of Saint Therese of the Child Jesus, and many of his brother priests from throughout the Diocese of Salt Lake City who came to the Mass of Dedication.
Saint Therese was rebuilt after a small burning prayer candle started a fire that damaged the church in January 2008. The fire caused about $300,000 in damage to the main sanctuary of the church's chapel. Since then Masses have been celebrated in the parish social hall, which is also being reconstructed. The kitchen will be completed in about two weeks.
"We have added on 2,000 square feet to the end of the old church," said Tom Stevens, contractor, of Tom Stevens Construction. "So the church went from 4,000 square feet to 6,000 square feet. The expansion was primarily for the sanctuary, but it gave them an opportunity to enlarge the rest rooms, the sacristy and the foyer. Now there is a children's chapel/cry room on both sides of the chapel. They had out grown the church, which could seat 400. The new church seats 600 people. The parking lot had to be redone as well.
"They are redoing the altar and the sacristy in the little rock church, and are putting in a rest room," said Stevens. "They are making it more comfortable for daily Mass.
The parishioners from the past and present were so excited to have the new church built because they said they have waited a long time. Those who have moved away still stay connected with Saint Therese because of family ties.
Stuart Hembury, 65, has been a member of Saint Therese since he was a baby.
"I was an altar boy, had my First Communion, Confirmation, and I was married in the little rock church 43 years ago," said Hembury. "What is so nice about this day is that it is for all the people, not just one specific group or just the people of Saint Therese Parish. We have a big Hispanic community here and we all had fun raising funds to build our new church."
"I sat in this church with my first wife, Mary, since we got married in 1947," said Owen Evans. "Everyone thought I was Catholic. Then she died in 1976, and I married Donna Hembury in 1984, in Saint Therese of the Child Jesus. Donna converted to the Catholic Church when she married her first husband George Hembury, who also died in 1976. Then I was baptized into the Catholic Church in 1992. I was baptized and married by Father James Semple, who was the pastor.
"We were here when they built the church to start with and have seen it grow to what it is today," said Evans.
"I was married in the little rock church 44 years ago," said Mike Gonzales, who has been a member of Saint Therese of the Child Jesus Parish for many years.
His daughter, Sophia Gonzales-Pease was married in Saint Therese of the Child Jesus, and although she moved away, she came back to have her three daughter baptized there.
"This means so much to me to come to this dedication," said Sophia. "It is fun to see my friends and their parents who have been members here for many years."
Linda Gonzales, the wife of Mike and mother of Sophia, said she had five daughters and all of her grandchildren have been baptized at Saint Therese Parish. Linda used to be a soloist and cantor, and it meant a lot to her to sing in the choir for the Mass of Dedication for the new church.
"I am so excited because we have waited a long time for this new church," said Linda. "I never thought we would see this day come to fruition. When we were married in the little rock church, there was only room for a few people on either side of us. They found a stone that said the little rock church was built in 1928."
Rose Vigil was celebrating her 96th birthday as well as the celebration of the new Saint Therese Church. The intention of the 10 a.m. Mass was for her. The first Mass held in the Saint Therese Church that was destroyed by fire was for Rose's daughter and son-in-law Nick and Connie Velarde on June 15, 1974.
Rose was born in 1913, and has been a member of Saint Therese since the parish began in 1925. She has nine children, 50 grandchildren, 30 great-grandchildren, and some great-great-grandchildren. Rose prays the rosary every day.
"I am happy today," said Rose. "I don't always have a good day, and I always take a nap. But I have been awake all day."
"In one heart and mind let us go rejoicing to the house of the Lord," said Bishop Wester as the Mass began in the social hall. It was a symbol of going from the old or make-shift church to the new church.
Bishop Wester then handed Fr. Diaz the blue prints and the keys to the new church, without which the congregation could not enter. Fr. Diaz opened the doors and welcomed everyone in.
Once inside, Bishop Wester said "This is an absolutely beautiful church. I cannot tell you how thrilled I am, how proud I am, and how joyful I am to celebrate this momentous occasion.
"Fr. Diaz congratulations to you and your people," said Bishop Wester. "We give thanks to almighty God for all those who have worked so hard to bring us to this day, and for all of you who have joined us today from the civic community, from other faiths, the architects, contractors, those from the pastoral center, so many religious sisters, lay leaders, my brother priests and deacons, and the musicians and choir. All of this bespeaks how we are one people coming together to give thanks to almighty God. Certainly to all of you parishioners and those who have been here since 1925.
Bishop Wester thanked Fr. Diaz and said he is a splendid pastor in every sense of the word, to which the congregation gave Fr. Diaz a standing ovation.
"I am beyond excited and overwhelmed," said Fr. Diaz. "I am over the top, over joyed. This has got to be one of the greatest days of my life. It is not the church building, it is the 800 people who came to worship, pray, and give glory to God and to say thank you for the blessings the building represents. I am also over joyed and so pleased that so many people came from the diocese and other parishes. So this is not just a parish event, but a diocesan event. I am over joyed with the priests and deacons that were able to join us today. This is for all the people of the diocese."