St. Thomas Aquinas Parish rings in 75 years
Friday, May. 05, 2017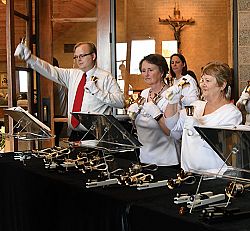 IC photo/Marie Mischel
Photo 1 of 2
HYDE PARK — To the music of the Westminster Handbell Choir of Logan's First Presbyterian Church, hundreds of people filed into Saint Thomas Aquinas Catholic Church on April 28 for the Mass celebrating the parish's 75th anniversary.
Bishop Oscar A. Solis presided at the Mass. Among the concelebrating priests were Msgr. Colin F. Bircumshaw, the diocesan vicar general, who was pastor of the parish from 1986 to 1988, and Msgr. J. Terrence Fitzgerald, the vicar general emeritus. Two other former pastors also concelebrated the Mass: Msgr. Robert Bussen (1977-1986) and Fr. Clarence Sandoval (1995-2011).
Other concelebrating priests were the current pastor, Fr. Fernando Velasco; Fr. J.J. Schwall, who served as associate pastor from 2006 to 2008; Fr. Jorge Martinez, who as a seminarian served at the parish; and Fr. Joseph Delka, who was a student at the Utah State University Newman Center affiliated with the parish.
During his homily, Bishop Solis recognized longtime parishioners, as well as those who have come more recently.
"My dear friends, what a beautiful testimony," he said. "You are witnesses of God's abiding presence in this faith community. Our celebration of the 75th anniversary is aptly a celebration of God's blessing and God's love. There is no other way to imagine that from the humble beginnings 75 years ago this faith community would grow."
The bishop also asked that the priests, deacons, and men and women religious who are or have been part of the faith community to stand and be recognized; in particular, he mentioned Fr. Sandoval, who "had the wonderful vision and courage in order to build a building, … this beautiful church."
The church in Hyde Park was built in 2006; previously, the parish had been located in Logan. Dominican Fr. Joseph Valine was the parish's founding pastor; he began celebrating Mass regularly in what was known as the Alta Manor Chapel in Logan in 1941.
The parish's third pastor, Fr. Jerome Stoffel, acquired the building that now serves as the Newman Center in 1957, and Mass was celebrated in that building's St. Jerome Chapel. By the time the capital campaign was started for the new church, the parish had swelled to 1,200 households, with an average Mass attendance of more than 200 people in a space that was originally built to hold 180, according to the parish history, edited by Adrienne Akers, that was handed out at the anniversary celebration.
In his homily, Bishop Solis stressed that the anniversary was not about the building; rather, "We are talking about men and women of great faith who because of their love for God, because of their faith in Jesus, have built not a church but a community, a family, God's family in our midst."
The celebration was not only to offer thanks to God but also to "remember those people who labored and put their energy, their resources and their hearts not into building a church, but building a faith community," he said. "Remembering is one way of saying, 'Thank you, Jesus; thank you, Lord.' We remember those men and women who entered the portals of this church in order to receive the gift of the newness of life in the Sacrament of Baptism. Think about the number of men and women, parishioners and guests, who entered this sacred place in order to receive the reassuring and consoling word of forgiveness in the Sacrament of Reconciliation. Remember those men and women who entered and became a part of this faith community to receive the soothing balm of healing grace in the Sacrament of Anointing. Think about the number of parishioners, of men and women who find comfort in the love of God and in their love for God they have found the sanctity and beauty of married life. Think about those men and women who have been recipients of God's unending and constant blessing in their lives whenever they come to be nourished with the food from heaven, the holy Eucharist. Remembering those beautiful moments of grace that could not but help make us say, 'Thank you, dear Lord. What an awesome God you have been for us!' And as we remember those beautiful, beautiful moments of grace, we look into the next chapter in the history of this faith community as you continue to build God's grace and God's church in our midst. You are the manifestation of God's faithful love, and your faithfulness in being God's children is a good revelation to the world that God's faith and God's love sustain us in order to remain committed in our faith as followers and believers of Jesus."