St. Vincent students' artwork enhances snowplow
Friday, May. 25, 2012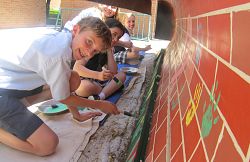 St. Vincent de Paul School
Photo 1 of 2
SALT LAKE CITY — As part of Salt Lake County Operations for National Public Works week in May, Saint Vincent de Paul students participated in a snowplow painting contest. The county dropped off the snowplow blade in front of the school on a Monday. Students then had two weeks to come up with a design, paint it and submit their entry.
Each class at St. Vincent was given the challenge to come up with a design and theme. Teachers and staff selected the design by sixth grader Katherine Kranz. The background included a brick wall overlaid with three universal symbols: a peace sign celebrating peace in the world, a musical note for the love of music and the breast cancer ribbon in support of those with breast cancer.
Students then added several handprints and flowers for the finishing touches.
Middle school students used their math knowledge using ratio and proportions to enlarge the design and paint the outline. Using acrylic paints, each student in grades pre-K through 8th came out during their art period and painted a piece of the scene on the 3 x 12 foot snowplow blade. This winter when the snow falls, the students will get to see their snowplow in action on the streets of Holladay.
"This was a fun way for our students to participate in the National Public Works Week, learn about their services and get to paint a snowplow, which they will take pride in seeing next winter plowing their Holladay streets," said Sarah Niemann, the school's art coordinator.
As part of the Public Works week, Salt Lake County officials will visit St. Vincent on May 29 with several pieces of equipment along with educational booths to allow students to look inside the vehicles used to maintain roads and explain how the equipment is used. Other display booths will provide information on noxious weeds, the state's beekeepers program and sanitation.
Courtesy of St. Vincent de Paul School