State Champions: Juan Diego CHS takes 3A soccer title; season saw only five goals scored against Soaring Eagle
Friday, May. 26, 2023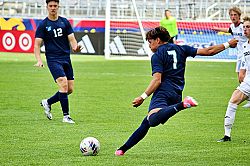 Courtesy photo/JDCHS
+ Enlarge
DRAPER — The Juan Diego Catholic High School boys soccer team is basking in the glory of their first state championship since 2016 after defeating #2-ranked Morgan 1-0 on May 12 at American First Field.
At the 2023 UHSAA 3A state championship game, the teams seemed evenly matched throughout.
"We did our homework; it was evident they did their homework," head coach Joe Baca said. "They played high-pressure soccer, which is a defensive commitment — 11 players all trying to stop individual one-on-one opportunities. I think Morgan did a really good job of applying that pressure, for the most part."
In fact, it was an unlucky break for the Trojans that gave the Soaring Eagle the chance to score.
"Because they were playing so high-press they fouled a player and that gave us the opportunity for the free kick," Baca said.
Taking the free kick, striker Hauroa Morgant, a senior, kicked the ball into the net for the game's only goal.
During the rest of the game, the Soaring Eagle successfully held the Trojans at bay until the final whistle blew.
It was a solid finish to the Soaring Eagle's 17-1 season, during which they claimed the region title. Their only loss was on April 10, when Bountiful defeated Juan Diego 2-1. While it was a little bittersweet not to be able to put 18-0 on their state championship rings, the Soaring Eagle players learned a lot from that game, Baca said.
"Without that loss I think we don't get humbled enough to be able to see that we can lose and that there are teams more physical and a lot faster, like Bountiful," Baca said. "So, it gave the boys an understanding that 'Hey, we are going to see this.' We saw it against Manti, we saw it against Delta, we saw it against Morgan. All three of those teams brought their best games, tried to be physical — some yellow cards, some red cards were given out — so that's playoff soccer at the best. I think that Bountiful game, that one loss, gave us that reset and built the confidence of the boys to know that we can go down and tie and possibly come back to win."
"We had such a great defensive stand all year long – we only had five goals scored against us — so the boys focused on that concept of just continuing to play the way we do defensively, and get Roa [Morgant], the state record-breaker the ball, and fortunately with the foul, gave him the chance to do what he does best," Baca continued.
Several players made major contributions to the Soaring Eagle success this season. Morgant scored 45 goals, breaking the state record, and helped ensure Juan Diego took home the state trophy. Jacob Alvarez broke the school record for assists, with 17. Also beating a school record, with 14 shutouts, was goalie Indra Suarjana.
While the team will see several seniors graduate, there are strong players waiting in the wings, Baca said, "I believe next year we could run [for the state title] again. I look forward to trying to figure out the proper players and the proper places for next year's run."