Stone monk in the foothills marks hermitage site
Friday, Aug. 30, 2019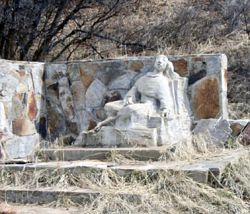 Courtesy photo/Michael Patrick O'Brien
Photo 1 of 2
By Michael Patrick O'Brien
Special to the Intermountain Catholic
The old Trappist monastery in Huntsville was my second home, a source of lasting friendship, and a font of spiritual refreshment. I knew the place well, but was surprised to learn recently that it also has been a repository of great and lovely art.
The relationship between art and Catholicism is not a new one, nor was it a novel association at the Abbey of the Holy Trinity. I knew some of the monks' art spaces, such as the stunning stained glass window behind their church altar and the blue/white tile mosaic of Our Lady of Guadalupe on their garden wall.
Over time, I learned that Father Malachy Flaherty surrounded a white Marian shine with a trellis of flowers and a small grove of trees. Brother Nicholas Prinster kept painted Greek icons in his old woodworking shop, and Brother Mark Stazinski built a large ceramic crucifix on a wooded hillside.
I also now know that one of the monks' most striking works of art stands watch over their secluded hermitage, nestled in the mountain foothills southeast of the main monastery site. A large sculpture of St. Francis of Assisi, created 40 years ago by a budding American artist, graces the A-frame cabin.
In 1977, Utah Abbot Emmanuel Spillane wanted to sanctify and decorate the hermitage retreat he loved. Given the beautiful natural setting, he asked a young postulant named Stephen Frost, new to the community, to create a statue of St. Francis.
Before joining the monastery, Frost had launched what was to be a long and prolific career as a surreal and abstract expressionist artist. Seeking his spiritual bearings, he lived in three monastic houses, in Byzantine and Tantric Buddhist monasteries, and on Navajo and Pueblo reservations. He eventually joined the Catholic Church and spent almost a year with the Utah monks.
Brother Mark, a skilled carpenter, helped Frost with the work. Originally from Gary, Ind., Brother Mark had served in a naval torpedo squadron and joined the Trappists in the bloody aftermath of World War II. Completing the concrete cast sculpture on the steep hermitage hillside involved a lot of hard work – "10 percent inspiration and 90 percent perspiration," according to Frost, borrowing from the famous quote by Thomas Edison.
"I think Father Emmanuel was expecting a small garden statue," Frost told me during a recent phone interview. Fortunately, the abbot also liked the brown-and-white life-sized work the young artist-monk created. Soon afterwards, Frost left Utah and entered the same California seminary where Fr. Emmanuel had studied. Soon-to-be Utah Bishop George Niederauer served as Frost's spiritual director.
After his 1984 ordination, Father Steve Frost completed pastoral assignments in Orange County, including at Skid Row in Los Angeles, an African American parish in south-central Los Angeles, an affluent parish in Huntington Beach, and a barrio parish in Santa Ana. Now retired from active ministry, he lives and paints in a small apartment situated above his art studio in southern California.
Father Steve's paintings, drawings, and sculptures are, according to his website, "artifacts of encounter with the other world that invite the viewer into the experience." Painting and sculpture for him has been "a mode of access to both understand and explore otherwise ineffable topics."
His art has been noted in publications such as the Los Angeles Times and the Orange County Register, and exhibited widely, such as at the new Christ Cathedral (formerly the Crystal Cathedral) in Anaheim. You can find many of his collected works, including essays, thesis, stories, novels, paintings, and poems, online at http://wp.nepsis.com, an ECAI (Electronic Cultural Atlas Initiative) project hosted by the University of California, Berkeley. (The ECAI is a global consortium of people who share the vision of creating a distributed virtual library of cultural information.)
Before all that, and before leaving Utah, Father Steve composed a letter, dated April 14, 1977, to his monk friends describing the abbey's new hermitage statue, one of his earliest artistic works. He wrote: "In parting, I thought it would be good for me to write a few words of explanation about the art that I am leaving behind and also to thank you for my stay here. The posture of the statue of St. Francis is taken from that of a real mendicant minstrel I saw once sitting on the curb in a town in the south of Mexico. He was playing a guitar and singing for his alms. It occurred to me that this is the sort of thing that Francis might have done.
"This modern beggar was dressed in brown rags by the way. I think that he was blind. I'm not sure since his face and eyes were directed towards the heavens and I was across the street. Francis suffered a painful eye disease so I fashioned his eyes in the unusual way that I did. For an unexplainable reason, I excluded ears when I made his head. I felt this to be justified artistically. The only reason that I can verbalize is those important things he heard in his life, he heard not with his ears, but with his heart and spirit."
The Utah monastery closed in 2017, leaving behind only a few tangible memories. One is the quaint church cemetery, marked with about three dozen simple white crosses. Another is Father Steve's sculpture in the foothills.
Fittingly, he now calls it "The Monk." It looks nothing like St. Francis, nor any of the Utah Trappists, but reminds us of their commitment to simplicity, love, and hearing with hearts and spirits.
Ironically, the closing words of Father Steve's 1977 letter to the monks now dedicate his art as a tribute not only to St. Francis, but to each man who lived, worked, and prayed at Holy Trinity Abbey: "So, the statue is really a symbol for his life, not a likeness of the man."
Mike O'Brien is a writer and attorney living in Salt Lake City. He is writing a book about growing up with the monks at the old Trappist monastery in Huntsville, Utah. He blogs at http://theboymonk.com/.