Strengthen your faith at the 2019 diocesan Pastoral Congress
Friday, Aug. 16, 2019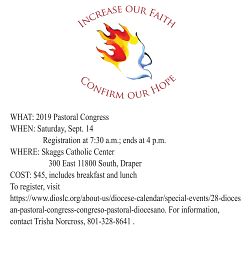 + Enlarge
SALT LAKE CITY — From praying the Liturgy of the Hours to new techniques for passing on the faith, the Diocese of Salt Lake City's 2019 Pastoral Congress will offer a plethora of topics of interest for local Catholics.
"The Pastoral Congress … is an important venue for all parish leaders, not only clergy but also laypeople, deacons and religious to gather together and pursue ongoing education in our faith development in order to enhance our pastoral ministries as we carry out the mission of evangelization in our local Church," Bishop Oscar A. Solis said.
He encourages everyone in the diocese to attend the congress.
"What a beautiful expression of unity and solidarity, to be together, learning how we can make ourselves better disciples of Christ and ministers of the Gospel," he said.
The Pastoral Congress also will provide many presenters who will speak on various facets of parish ministries that encompass the five priorities of the Pastoral Plan: faith formation, vocations, stewardship, Eucharist and Catholic identity, and the dignity of the human person, the bishop said. One workshop for all pastors and parishioners will be "Implementing the Pastoral Plan in Your Parish," which will be presented by Dominican Fr. Wayne Cavalier.
The all-day event on Sept. 14 will begin with a bilingual Mass at which Bishop Solis will preside. The keynote speakers will be Father Roger Keeler in English and Dominican Sergio Serrano in Spanish.
Fr. Keeler, assistant professor of canon law at the Oblate School of Theology and former executive director of the Canon Law Society of America, was the keynote speaker at the 2016 Pastoral Congress, when his topic was forgiveness. This year he will speak on the theme of missionary discipleship.
The cornerstone of his talk will be a paragraph from "Evangeli Guadium," Pope Francis' 2013 apostolic exhortation on the Proclamation of the Gospel in Today's World. Paragraph 273 states, "My mission of being in the heart of the people is not just a part of my life or a badge I can take off; it is not an 'extra' or just another moment in life. Instead, it is something I cannot uproot from my being without destroying my very self. I am a mission on this earth; that is the reason why I am here in this world. We have to regard ourselves as sealed, even branded, by this mission of bringing light, blessing, enlivening, raising up, healing and freeing. …"
"What the Holy Father is putting forward in 'Evangeli Guadium' is actually a program for the Church," Fr. Keeler said, adding that Pope Francis is asking Catholics to tell "our own story in simplicity and, in telling that story, that's how we bring that enlivening, that hope, that life, that freedom to those who encounter us."
Fr. Serrano serves as the director for the Hispanic Apostolate of the Archdiocese of New Orleans. He has been an instrumental part of the V Encuentro process in the United States.
Workshop topics at the Pastoral Congress will be adult faith formation, catechesis, family/parenting, Hispanic perspective, justice and peace, liturgy, multi-cultural, prayer, special needs, spirituality, stewardship, vocations, and youth and young adult ministry.
This year's theme is "Increase Our Faith, Confirm Our Hope."
"This is a time in which we need to increase our faith and knowledge in the head and in the heart, and confirm our hope," said Susan Northway, the diocesan director of faith formation, who organizes the Pastoral Congress. "The signs of the times indicate that this is a time for us to cling to hope, to have great hope for the future."
Among the noteworthy presentations will be a workshop on Jean Vanier, founder of L'Arche, an international volunteer organization that creates homes, programs, and support networks with people who have intellectual disabilities. Vanier, a Catholic theologian, died on May 7.
Dr. Joseph D. White, a practicing clinical child psychologist, author and representative of Our Sunday Visitor, will give two workshops, one on keeping children Catholic, and the other on involving parents and engaging families. Northway said she thinks White is one of the most interesting people coming to the congress.
The offerings for youth ministers will include a two-part workshop by a Catholic Mutual representative on how to plan safe activities.
Among the workshops for catechists will be one about how to adapt religious education materials for the teaching of the faith to people with disabilities. It will be given by a representative of Loyola Press, which publishes material for this purpose.
Many other practical and theoretical workshops will be offered, including those to help catechists build up techniques for passing on the faith, Northway said.
"This is an opportunity for us to deeply explore the Pastoral Plan's initiatives for strengthening our faith, be it from the theoretical part of theology into claiming it with heart," she said.