Student dances her way into a Disney movie
Friday, Sep. 05, 2008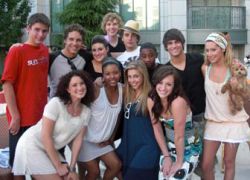 Photo courtesy of Haylee Roderick
+ Enlarge
DRAPER — Haylee Roderick would like to have a career in acting or dancing professionally on stage or on the big screen. She has already had the opportunity to do just that.
Roderick is a senior at Juan Diego Catholic High School. Out of 800 girls who auditioned for the movie "High School Musical 3," Roderick was one of nine who was selected as a principal dancer for the movie. "High School Musical 3" was filmed at East High School in Salt Lake City, and will be in theaters Oct. 24.
"There was a week-long open call audition for 'High School Musical 3' last March," said Roderick. "The first day was a private call. My dance instructor told me about the audition. Tuesday and Wednesday were auditions for girls, and Thursday and Friday were the audition days for boys. Friday and Saturday were call back days. The audition took place at Studio 600 in Salt Lake City last March.
"I got a call the following Wednesday night telling me I had been selected as a principal dancer," said Roderick. "I began working the next day. It was in the middle of March, so I had to completely check out of school and get all my credits from Valley High School. I was gone from Juan Diego the whole fourth quarter of school.
"High School Musical 3" is about high school seniors Troy and Gabriella who struggle with the idea of being separated from one another as college approaches. Along with the rest of the Wildcats, they stage a spring musical to address their experiences, hopes and fears about their future.
"The stars of the movie are Zac Efron, Vanessa Anne Hudgens, and Ashley Tisdale," said Roderick. "Filming was great. We had six weeks of rehearsals where we learned all the dances and all the singing. But after that, we had between four and six days of shooting each week, and we had to learn a new scene each day. Every scene was so fun and it was really fun working with all the actors every day. We became a huge family on the set."
This experience makes Roderick definitely want to go into the movies.
"I can see myself doing this forever," said Roderick."
Roderick is under 18 years old, so she is only allowed to work 10 and a half hours each day including three hours each day for school. Some days she would return home, or depending on the situation, she would sometimes stay at the hotel with all the dancers. They were staying at Little America Hotel in Salt Lake City.
"I became friends with the dancers and would stay with them," said Roderick. "We became great friends. Basically they are from all over the United States, and one was from England. We became really close because we were filming every day for three months."
Roderick takes away from this experience, a new appreciation for the difficulty and hard work that goes into making a film.
"It was amazing to learn how they make a movie and how the cameras are set up, and what it was like to work with a movie director, a choreographer, and a producer," said Roderick. "You really have to be on your game and ready to shoot every day.
"Kenny Ortega is the director and he is a genius and so creative," said Roderick. "He had a say in everything. He helped choreograph the dancing as well. I have a new appreciation for directors and how creative they have to be. They do it all."
Roderick is a member of the Dance Company and a student body vice president at Juan Diego this year. The Dance Company has a winter and a spring concert. The numbers for the dance concerts are chosen in the dance classes.
"Each student auditions a piece she has choreographed, and the officers and the director select the dances they want performed in the concert," said Roderick. "If your dance is selected, you get to pick the dancers you want for your number. Everybody gets to perform."
Roderick started dancing when she was 6 years old. She studied ballet, jazz, hip hop, and tap. She now takes lessons at Center Stage in Orem. Her instructor is well aware of her aspirations and is very supportive of what Roderick wants to do.
Roderick already has an agent from the D. D. Agency in Los Angeles, Calif.
"My dream is to be in the movies, to dance on television, act, or dance professionally on stage, or do commercials," said Roderick. "I have always had an interest for working in the movie industry."
Being selected for "High School Musical 3" was a dream come true for Roderick. Now with some experience to add to her resume, Roderick is going to continue to follow her dream.