Study series offers adult faith formation opportunity
Friday, Sep. 22, 2023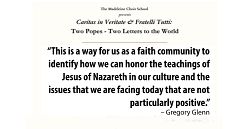 + Enlarge
SALT LAKE CITY — As part of implementing the diocesan Pastoral Plan, Bishop Oscar A. Solis has asked The Madeleine Choir School to take a stronger lead in adult faith formation in the Catholic community. To help in this endeavor, Gregory Glenn, the school's pastoral administrator, will facilitate Two Popes | Two Letters, a study series on two papal encyclicals, Caritas in Veritate by Pope Benedict XVI and Fratelli Tutti by Pope Francis. The sessions will be held on Tuesday evenings from Sept. 26 to Oct. 24 at the school and via Zoom.
The topic for the series came about after Glenn became intrigued by a recent article in The Atlantic posted by New York Times columnist David Brooks titled "How America Got Mean," he said. In the article, Brooks describes changes in American culture where young people are now growing up in what he says is "a morally inarticulate, self-referential world."
As a response, "It intrigued me to take a look at two of these encyclical letters that are really about our relationships with others," Glenn said.
In Caritas in Veritate, Pope Benedict XVI's last encyclical, "he explores what is meant by integral human development," Glenn said. Pope Benedict begins his analysis of this topic by examining Pope Paul VI's Populorum Progressio, which was "a landmark encyclical" that explored the topic of the progress of peoples, "how we as a Christian community have to be concerned about the individual, not just economies of scale," Glenn said. "In Caritas in Veritate, Pope Benedict writes about the economy, about civil society, about rights and duties, about the environment, about the importance of the family and the impact of technology on people."
Fratelli Tutti, Pope Francis' encyclical on fraternity and social friendship, delves into the notion of solidarity with others. "Like David Brooks, he's exploring this sadness, this increasing despair among people," Glenn said. Fratelli Tutti moves into a theological reflection on the Good Samaritan parable "and then launches into what [Pope Francis] believes we should do: to create a more open world, to move beyond ourselves, to aspire to greater solidarity with others," Glenn said.
In both cases the popes take a look at the issue of how people relate to one another, Glenn said. "They are both brilliant; both have direct calls to action. Encyclical letters tend to gather dust on shelves, and I really don't think either of these should be left on a shelf."
Glenn will be the facilitator of the group, which will read sections from the encyclicals each week before gathering and then discuss what they have read.
"I'm hoping it will be a really robust conversation among the participants," he said. "This is a way for us as a faith community to identify how we can honor the teachings of Jesus of Nazareth in our culture and the issues that we are facing today that are not particularly positive. It's taking those teachings and applying them and then hopefully making a difference in this community."
The Madeleine Choir School is endeavoring to offer these study series at least twice a year, Glenn said. A second one will be presented next spring during Lent.
WHAT: Study series on Caritas in Veritate and Fratelli Tutti
WHEN: Tuesdays, Sept. 26 to Oct. 24; 6:30 p.m.
WHERE: The Madeleine Choir School, 205 1st Ave., SLC, and online
Free and open to everyone. Sign up at https://dsnp.co/zTnoA8.