Synagogue welcomes message of interfaith dialogue
Friday, Aug. 31, 2018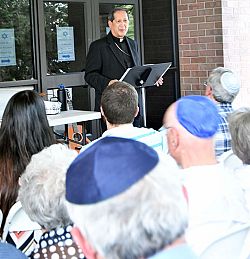 IC photo/Marie Mischel
+ Enlarge
SALT LAKE CITY — As the sun began to set on Aug. 17, members of Salt Lake City's Congregation Kol Ami community gathered on the covered patio for the Shabbat, the Jewish Sabbath. Rabbi Samuel L. Spector welcomed those present, saying, "How good it is for brothers and sisters to come together and sit together."
The rabbi also introduced a special guest, the Most Rev. Oscar A. Solis, Bishop of Salt Lake City, who gave the homily that evening. Calling the bishop a "friend and brother to our community," the rabbi pointed out that one of the verses they would hear from the Torah that evening was Deuteronomy 16:20, "Justice, justice shall you pursue." He added that he was looking forward to being a partner with the bishop in pursuing justice.
In his homily, Bishop Solis said he was honored to speak to the congregation. "I come here as a friend and as a brother," he said.
In Utah he has found a strong desire among the different faith communities "to forge and establish not only ties but deeper harmony and peace to build one community here in Salt Lake City," he said, and interfaith dialogue "is an antidote to the climate of division and hatred" that is so prevalent in today's world.
The bishop gave a brief overview of the Catholic Church's more recent relationship with Judaism, beginning with the Vatican II document "Nostra aetate," the 1965 "Declaration on the Relation of the Church to Non-Christian Religions."
"It is a special document because it opens the eyes and hearts of the Catholics to recognize the plurality of religion, especially in special relationship with our Jewish brothers and sisters," Bishop Solis said.
The Catholic Church "rejects nothing of what is true and holy in other religions," the bishop added. "She has a high regard for their manner of life and conduct, for their precepts and doctrines. And so I am here to assure you, on behalf of the Catholic Church in the Diocese of Salt Lake City and the entire state of Utah, I am here to continue and encourage our deeper effort in order to forge that friendship through dialogue and interfaith relationship."
A desire for friendship does not mean ignoring differences, the bishop said. "Dialogue, my dear friends, fails if people pretend differences do not exist. … I understand that dialogue will not solve all problems or bridge all gaps, but at least it creates a space for conversation and the possibility that differences can be respectfully confronted and peacefully understood."
After the service, Rabbi Spector said he appreciated Bishop Solis' message. The bishop "highlighted our hope as well for friendship and the importance of being understood and understanding each other. That doesn't mean agreeing on everything, like he said, but really being partners together in holy, beautiful work," the rabbi said.
The bishop's visit to the synagogue was arranged by Sue Prottas and Betty Yanowitz, who represent Congregation Kol Ami on the Salt Lake Interfaith Roundtable and are members of the congregation's Social Action Network.
"We have so many things in common with other faiths and we're dealing with a lot of the same issues," said Yanowitz, adding that she liked Bishop Solis' message of respectful dialogue and the need to accept differences.
David Sonnenreich, who chairs the synagogue's Social Action Network, agreed, saying he appreciated the bishop's message, and that Bishop Solis "reached out in a very loving and kind way."