Teen joins 2 percent in earning Girl Scout Gold Award
Friday, Apr. 26, 2019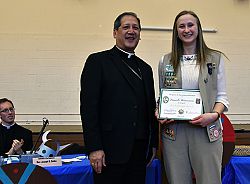 IC photo/Marie Mischel
+ Enlarge
PLEASANT GROVE — Thirteen years of Girl Scouts – 13 cookie drives, 13 camps, hundreds of meetings, and scores of service projects and learning experiences. That's what membership in St. Peter Parish's Girl Scout Troop 1000 has meant to Danielle Weinerman.
Danielle, 18, a senior at Pleasant Grove High School, joined Girl Scouts during her kindergarten year, not long after the family moved to Utah from Florida. Her brother Matthew had joined the parish's Cub Scout pack and, attending pack meeting with the family, Danielle noticed the parish also had a Girl Scout troop, so she asked her parents if she could join.
"I thought the Girl Scout program was a great avenue for Danielle to meet more people and to become involved," said her mother, Wendy Burgun.
Danielle not only became involved, over the next 13 years she also took every opportunity to serve others and to complete what are known as "Journeys" – badges and projects in various areas of emphasis.
She recently received the pinnacle award in Girl Scouting – the Gold Award – which is earned by just 2 percent of Girl Scouts nationwide. The Most Rev. Oscar A. Solis, Bishop of Salt Lake City, presented the award to Danielle March 31 at the Bishop's Dinner for Scouting and Clergy.
Similar to the Eagle Scout award in Boy Scouts, the Gold Award has an added element to its requirements beyond what is needed to earn badges: the project implemented by the Girl Scout must be sustainable beyond its initial timeframe.
The city in which Danielle lives, Pleasant Grove, has a kindness initiative, so when she decided to start a kindness club at Grovecrest Elementary School she had a lot of community support.
Every Tuesday for five months Danielle met with up to 60 club members after school to brainstorm ideas on how to spread kindness around their school and community each week.
"I didn't want to just be telling them what to do, I wanted to gather their input and ideas," she said. "Almost all the ideas we implemented came from them. It was really cool to see and to help them think about how to be kind."
This led to the students making and designing bookmarks with kindness messages that they put in books in the school library, along with posters that Danielle put up around the community.
The club also teamed up with the HOPE Squad (a school-based peer support program) at Pleasant Grove Junior High School to organize a Hope and Kindness Week where they sponsored Kindness Bingo (each square had a suggested activity to promote kindness) and drew positive messages on the schools' sidewalk with chalk. They also encouraged students to fill out slips of paper when they performed or witnessed 17 acts of kindness (in honor of the 17 victims of the Stoneman Douglas High School shooting).
After receiving a commitment from the Grovecrest PTA that they would continue the kindness club after the five months of her involvement, Danielle put resource guides together to help them do so. She also developed and distributed guides for other schools or PTAs that might be interested in starting kindness clubs of their own.
Danielle's Gold Award project was something that fit her to a T, her mother said.
"When Danielle was trying to figure out what to do for her Gold Award, I didn't really think about this until it was well under way, but this project is the epitome of what she is all about," Burgun said. "Her whole thing is that she is super-concerned about others and wants to help whenever she can."
While Danielle has done a lot of service during her years in Girl Scouts, she has received many rewards from the program. Her time in Girl Scouts was very positive and she especially liked camp, she said.
"I always had a great experience at Girl Scout camp," she said. "It helped me a lot every year. It helped me build connection with a bunch of people and helped me be more comfortable in my own skin."