The Bishops of Salt Lake City: Joseph S. Glass, The Gilded Age Bishop
Friday, Aug. 16, 2013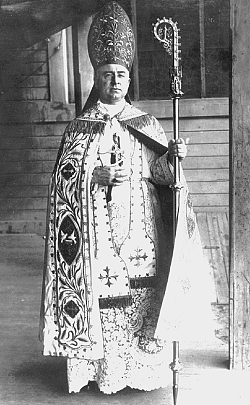 Diocese of Salt Lake City archives
Photo 1 of 2
(Editor's note: In honor of the 10th anniversary of the Bishop's Dinner, the Intermountain Catholic is publishing a series of articles featuring the men who have served as Bishop of Salt Lake City.)
By Gary Topping
Archivist, Diocese of Salt Lake City
he Gilded Age in American history – roughly the last few decades of the nineteenth century – saw the accumulation of some vast fortunes and the opulent living this made possible. The possessors of those fortunes saw themselves as nouveaux riches, a new aristocracy of wealth rather than birth. Their palatial homes, their yachts and their private art collections were some of the manifestations of their new status. The second Bishop of Salt Lake City, the Right Rev. Joseph S. Glass, while not a member of that class, identified himself with it, and brought a sophisticated style to the diocese that contrasted sharply with that of the spartan and ascetic Bishop Lawrence Scanlan.
Glass was a Midwesterner born into a family of middling prosperity, for his father, a liquor wholesaler, earned a comfortable living. Joseph, though, felt a calling to the cloth rather than the counting house, and his family of serious Catholics welcomed his vocation. He was ordained to the Vincentian Order (Congregation of the Mission) in 1897, eventually becoming, in 1915, our only bishop to be a member of a religious order.
He spent his early years as a priest in Los Angeles, where he became rector of St. Vincent Church and professor and president at St. Vincent College. Among his parishioners were the wealthy oilman Edward L. Doheny and his wife Estelle, who adopted the young priest as a virtual family member. Doheny was later involved in the Teapot Dome scandal involving fraudulent oil leases in Wyoming, but Bishop Glass was never implicated. His closeness to the Dohenys, though, gave him entry into the Gilded Age aristocracy and made possible some of his enterprises as Bishop of Salt Lake City.
When Bishop Glass took over the See of Salt Lake City upon Bishop Scanlan's death in 1915, he found conditions appalling. The Cathedral rectory, for one thing, which at this period still lacked indoor plumbing, he considered uninhabitable, so he purchased a much more commodious home at 82 Laurel Street in Federal Heights, not far from the present bishop's residence. The Cathedral itself, with its simple green and white décor, was too austere for him, and the Bavarian style stained glass windows struck him as artistic anachronisms. Accordingly, even though the Cathedral had been dedicated a mere eight years before, in 1917 he mounted a thoroughgoing redecoration, tearing out the original marble altars and adding ornate carved wooden reredos and other elaborate woodwork. He removed the five Sorrowful Mystery windows in the apse and replaced them with colorfully painted murals, at the same time as he replaced the bas relief Stations of the Cross with oil paintings.
Bishop Glass styled himself as a man of artistic and cultural refinement, though one could pardonably dispute his taste. He renamed the Cathedral of St. Mary Magdalene the "Cathedral of the Madeleine," giving the name a more sophisticated-sounding French twist. He traveled throughout Europe and brought back a substantial collection of oil paintings, mostly Renaissance imitations.
All of this, of course, came at a huge cost. Although some of it was subsidized by Doheny money, and Bishop Glass spent his own substantial funds as well, by the time he died in 1926 the diocese was mired in red ink.
On the positive side, Bishop Glass continued Bishop Scanlan's building program and outreach to Utah Catholics who were expanding into rural parts of the far-flung diocese. Although there were still no native Utahns in seminary, he was able to attract priests from other parts of the country to staff some of the isolated parishes and missions on the Utah frontier.
Despite the crushing burden of debt the diocese was suffering under at the time of his death, our Gilded Age bishop inspired us with his big-city ambitions and his style and sophistication. Think of him the next time you find yourself dazzled by the brilliant colors and beautiful liturgies of the Cathedral.
(The annual Bishop's Dinner, which supports the Cathedral of the Madeleine, this year is scheduled for Sept. 26 at The Grand America Hotel, 500 S. Main St., SLC. The guest speaker will be the Most Rev. George H. Niederauer, Archbishop emeritus of San Francisco and the eighth Bishop of Salt Lake City. For information, contact Laurel Dokos-Griffith, 801-328-8941 ext. 108.)