The Bishops of Salt Lake City: The Scholar – Bishop George H. Niederauer
Friday, Sep. 27, 2013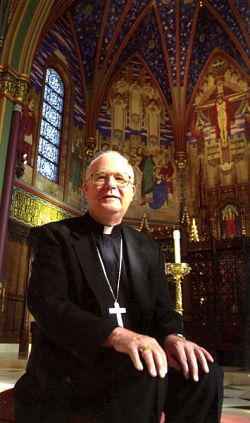 Diocese of Salt Lake City archives
+ Enlarge
(Editor's note: In honor of the 10th anniversary of the Bishop's Dinner, the Intermountain Catholic is publishing a series of articles featuring the men who have served as Bishop of Salt Lake City.)
By Gary Topping
Archivist, Diocese of Salt Lake City
There is a myth, which will not die, to the effect that academic scholars are all ivory-tower, head-in-the-clouds intellectuals who are inherently unable to relate to common people and mundane issues. Those of us who had our lives turned around by great scholar-teachers know the falsity of the myth, and those of us who sat under the ministry of Bishop George H. Niederauer (1995-2006) should know it as well. Though he held an earned doctorate in English literature, Bishop Niederauer was the most approachable of persons and one whose homilies were almost magical in their ability to make potentially difficult Scripture passages and theological concepts comprehensible and applicable – even inspiring – in our daily lives.
An only child, George H. Niederauer was born and educated in the Los Angeles area. Exhibiting academic talent as a young man, he enrolled in Stanford University, but left after his freshman year to respond to a call to the priesthood and enter the Archdiocese of Los Angeles seminary system. After earning degrees in philosophy and theology, he pursued graduate studies in English literature, culminating in 1966 in a Ph.D. from the University of Southern California. A teaching career followed, mostly at St. John's Seminary in Camarillo, Calif., where he became spiritual director, rector and chairman of the English department.
Perhaps the most dramatic event that marked his term as Bishop of Salt Lake City was completion of the Skaggs Catholic Center in Draper, which became – astonishingly for its location in the heart of Mormon Country – the largest parochial school center in the country. In that, Bishop Niederauer was gratefully reaping what Bishop William K. Weigand and Msgr. J. Terrence Fitzgerald had sown in the relationship they had cultivated with wealthy philanthropist and Catholic convert Sam Skaggs.
In addition to the Skaggs Catholic Center and numerous other contributions to other Utah Catholic schools, the Skaggs family also donated a palatial home to the diocese. Bishop Niederauer took up residence there, but he lived simply, setting up his computer in the laundry room and surrounded with his books and music while hosting friends for monthly bridge parties.
Much less happy was his obligation to face the rampant child abuse scandal that erupted during his term, which exposed priests throughout the United States and other countries who had had inappropriate relations with children and the bishops who had covered up those relationships, often reassigning guilty priests to other parishes without punishment. Bishop Niederauer faced the scandal boldly and honestly. After research disclosed that over a half century the Diocese of Salt Lake City had experienced only a handful of such cases, all of which had been dealt with appropriately through ecclesiastical or civil action, he called a press conference at the Pastoral Center to lay the matter honestly before the public.
Bishop Niederauer also will be remembered as one of the most eloquent homilists in the history of the diocese: the long row of red three-hole binders in the Diocesan Archives containing every homily or talk he gave during his term as bishop will forever delight archival patrons who care to stroll in and pick one off the shelf.
That eloquence could quickly turn caustic, though, whenever he discovered anyone misrepresenting or unfairly criticizing Catholic teachings, and he was a frequent contributor to the letters section in the Salt Lake Tribune. On one occasion, for example, he responded to a letter implying "that American Catholics meet mainly to discuss sexual morality and who should be ordained," by observing that "simple sentences and snappy headlines sell newspapers. Still, it would be better for religion coverage to venture occasionally beyond the three-foot end of the pool."
Those of us who vividly remember that eloquence – both the pastoral and the apologetic – look forward to another generous helping of it as we greet our former pastor as featured speaker at the Tenth Annual Bishops Dinner on Sept. 26.