The Diocese of Salt Lake City's Unknown Bishop, Leo J. Steck
Friday, Aug. 17, 2018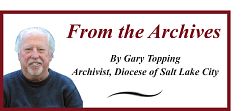 Photo 1 of 2
It is pretty difficult for a Catholic bishop to achieve obscurity, but our Auxiliary Bishop Leo J. Steck is unknown to most Utah Catholics. I suggest there are two reasons for that obscurity: He died before he could become the Ordinary, and he only served as Auxiliary for two years, from 1948 to 1950. Let me introduce him to you a little more fully.
With the exception of his brief sojourn in Utah, Bishop Steck was a lifelong resident of St. Louis, Mo. Born on Aug. 30, 1898, Leo was the youngest of three sons of George and Mathilda Steck. While not yet out of his teens, Leo suffered two family deaths: his father, who died of pneumonia; and his brother Raymond, who succumbed to a ruptured appendix. His oldest brother Al, a brass finisher, became the family breadwinner.
The Stecks lived in a German-American neighborhood where instruction in the schools was given in German in the morning and English in the afternoon. Leo seemed to be destined for the priesthood from an early age: After graduating from the eighth grade in St. Augustine parish school, he enrolled in seminary and was ordained on June 8, 1924. His early assignments included a convent chaplaincy, teaching at the Cathedral Latin School, and overseeing support services for rural parishes. He was pastor of St. Gabriel Parish in St. Louis when he was named Auxiliary Bishop of Salt Lake City. Bishop Duane G. Hunt of Salt Lake City had suffered from deteriorating eyesight for years, and it was thought that he would retire as soon as he could turn the diocese over to Bishop Steck.
The new bishop hit the ground running in Salt Lake City. He seemed ideally suited to the far-flung diocese because of his experience dealing with rural parishes in Missouri. He made plans to visit the rural Utah parishes and made plans to raise funds throughout the rest of the country to support them. As part of that effort, he drew up an ill-fated leaflet called "A Foreign Mission Close to Home," which he could pass out to potential donors in the eastern states, explaining the needs of the diocese. Unfortunately, it featured a map of the United States that showed Utah in black, which some Mormons, into whose hands the leaflet fell, misinterpreted as indicating that Utah was lost in sin and in need of conversion. It took Bishop Hunt some effort, in meeting with Mormon leaders, to explain that that was not Bishop Steck's intention.
Despite that unforeseen glitch, the fundraising trip got off to a very promising start. A carefully kept account book in the Steck papers indicates that he was raising thousands of dollars, almost all in amounts of less than $5 or $10.
But the trip came to a tragic end. The bishop's health had been precarious since he had contracted tuberculosis in seminary, and the rigors of travel and fundraising led to a stroke once he had reached his hometown of St. Louis. He died on June 19, 1950, barely two years after his episcopal consecration.
From all indications, had he lived to succeed Bishop Hunt he would have been an energetic, loving and compassionate bishop. His nephew Jim, an insurance broker in St. Louis from whom our diocesan archives received most of our Steck materials, remembers that when Uncle Leo would visit, his trouser pockets would always be full of loose change, which would spill out onto the couch when he sat down and which then became free pickings for the kids. A bishop with both a great vision for the diocese and the common touch as well; we could have done much worse.
Gary Topping is the Diocese of Salt Lake City archivist.