The Glory of Angels
Friday, Sep. 17, 2010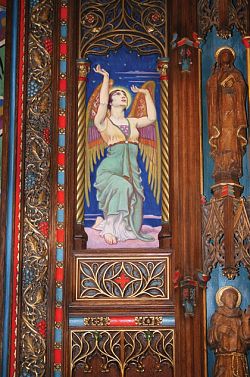 photo courtesy of the Cathedral of the Madeleine
+ Enlarge
SALT LAKE CITY — "Are not all angels ministering spirits sent to serve those who will inherit salvation?" Hebrews 1:14
Angels throng the Cathedral of the Madeleine, so it's only fitting that this year's theme for the annual Bishop's Dinner benefit focuses on them.
"Every year we have a different theme for the Bishop's Dinner," said Laurel Dokos, director of development of the Cathedral of the Madeleine "Themes from past events have been the architectural and historic significance of the building, the bells, the stained glass windows, gargoyles, the history of the music program, and of course, last year, our centennial celebration and the role the cathedral has played in the community for 100 years. This year we have chosen the angels as our theme."
There are more than 200 angels throughout the cathedral; Catholics believe in a hierarchy of angels, with those at the top in constant adoration of God and the lowest involved in helping, warning and protecting humans. The angels in the Cathedral are divided in four main hierarchies.
"The cathedral is full of beautiful artwork depicting angels, but every bit as important are the angels that we can't see depicted on the walls or the windows," Dokos said. "The angels we honor this year are the angels among us, and those who walked before us that had the vision and the commitment to support The Cathedral of the Madeleine."
The artist who painted the cathedral's angels was Felix B. Lieftuchter. In a letter dated April 7, 1972, in response to a query from Monsignor William H. Mc Dougall, then the cathedral's pastor, about how the murals were painted, Lieftuchter wrote, "I painted five or six cathedrals in the United States. I was about 30 years old when I worked on the Cathedral of the Madeleine in Salt Lake City. It was during World War I, I think about midway through the war. I stayed in Salt Lake City about a year and have never returned since. I think, as I recall, that I was paid about $7,000 for my work in the cathedral."
To maintain Lieftluchter's murals as well as other artwork and the building itself, funds are raised through the Bishop's Dinner and other fund raisers.
"Maintaining and caring for a building like the cathedral requires significant effort and funding," Dokos said. "Thousands of people have come forward to support our Cathedral for over 100 years, and now it lies to those of us who will experience part of the next one hundred years to step up and follow in the footsteps of those who have left us this beautiful legacy."
The annual Bishop's Dinner for the benefit of the Cathedral of the Madeleine will be Wednesday, Sept. 22 at 6 p.m. at the Grand America. Keynote speaker is the Very Rev. Rick Lawson, dean of Saint Mark's Episcopal Cathedral. For tickets, contact Laurel Dokos at ldokos@saltlakecathedral.org or call 801.328.8941 ext. 108.