The Imperative to Protect Dignity
Friday, Apr. 06, 2018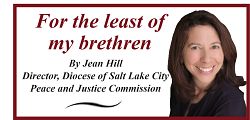 + Enlarge
The Catholic Church's teachings on the imperative to protect the dignity and sanctity of every life at every stage is far too often over-simplified to one or two issues. Thankfully, the depth and beauty of our teaching is on full display here in Utah with Catholic efforts to give voters the final say on whether the state expands Medicaid coverage to thousands of working Utahns still in a coverage gap.
Access to health care is a clear dignity of life issue in Catholic teaching. A person without health insurance or the means to otherwise pay for health care may suffer the fatal consequences of long-term illnesses sooner than a person who does have health insurance and thus receives regular treatment.
The Catechism of the Catholic Church holds that "The political community has a duty to honor the family, to assist it, and to ensure especially: … in keeping with the country's institutions, the right to medical care, assistance for the aged, and family benefits. …. (CCC 2211, emphasis added). It notes also that "Concern for the health of its citizens requires that society help in the attainment of living-conditions that allow them to grow and reach maturity: food and clothing, housing, health care, basic education, employment, and social assistance." (CCC 2288, emphasis added).
It is part of our consistent ethic of life, then, to advocate for access to health care for our fellow citizens. We have the opportunity to do this right now by supporting, signing, and urging others to sign the Medicaid Expansion Initiative Petition. The petition will not expand Medicaid. Rather, it will give all Utah voters the right to vote on whether we want our federal health care dollars to be sent to other states or used right here at home to provide health care coverage for more of our neighbors who are working but don't currently qualify for health care from their employer or Medicaid.
The Medicaid expansion proposal that the petition would open up for direct vote by the people of Utah would cover families of four who make between $13,530 and $24,600 per year. These families make too much for Medicaid now, but don't qualify for federal subsidies under the Affordable Care Act or for employer health care because they work in part-time positions. The expansion would similarly cover single adults who make up to $12,060 per year and are ineligible for Medicaid and other coverage.
While the state Legislature passed a bill expanding Medicaid, certain requirements in the legislation require federal approval before coverage is available and it does not cover as many Utahns as the initiative. Thus, if voters approve the Medicaid Expansion Initiative this November, more low-income Utahns will be covered, and sooner, because the initiative does not require any waivers of federal regulations.
Providing health care insurance for individuals and families is the right and moral thing to do. As people who believe that all life is sacred, we do not want to sit idly by while thousands of our fellow citizens go without care for diabetes, cancer, heart disease, or the host of other illnesses that, with health insurance, can be treated or at least controlled so that the person can continue to live a meaningful existence. Our faith demands that we stand up and speak in support of our fellow human beings whose health is on the line.
Jean Hill is the Diocese of Salt Lake City government liaison.
Medicare Expansion Initiative Petition Locations
The Diocese of Salt Lake City supports the Medicaid Expansion Petition Initiative and we urge you to sign the petition as soon as possible. Signatures must be in for final count this month, so please sign! Petitions for signing can be found at the front desk of the diocesan Pastoral Center, 27 C St., Salt Lake City or at the following locations:
St. Jude's Episcopal Church, 70 N. 200 W. , Cedar City
Church of the Resurrection, 1131 S. Main, Centerville
Spirit of the Desert Episcopal Church, 881 Coyote Gulch Court, Ivins
St. John's Episcopal Church, 85 East 100 North, Logan
AARP Utah, 6975 S. Union Park Center, #320, Midvale
St. James Episcopal Church, 7486 Union Park Ave., Midvale
The Episcopal Church of St. Francis, 250 Kane Creek Blvd., Moab
The Church of the Good Shepherd, 2374 Grant Ave., Ogden
Catholic Community Services of Utah, 2504 F. Ave., Ogden
People's Health Clinic, 650 Round Valley Dr., Park City
St. Luke's Episcopal Church, 4595 N. Silver Springs Dr., Park city
Ascension St. Matthew's Church, 522 N. Homestead Blvd., Price
Community Health Connect, 591 S. State St., Provo
St. Mary's Episcopal Church, 50 West 200 North, Provo
Church of the Holy Spirit, 4250 S. 1000 E., Randlett
Disability Law Center, 205 North 400 West, Salt Lake City
Utah Health Policy Project, 1832 W. Research Way, #60, Salt Lake City
Voices for Utah Children, 747 E. South Temple, Salt Lake City
Utah Decides Heathcare, 10 West 100 South #300, Salt Lake City
All Saints Episcopal Church, 1710 Foothill Dr., Salt Lake City
Cathedral Church of St. Mark, 231 East 100 South, Salt Lake City
St. Paul's Episcopal Church, 261 S. 900 E., Salt Lake City
Episcopal Diocese of Utah, 75 S. 200 E., Salt Lake City
George's Corner Restaurant, 2 West St. George Blvd., St. George (Every Wednesday at 9 a.m. the Washington County Democrats will collect signatures at this location.)
St. Stephen's Episcopal Church, 4615 South 3200 West, West Valley City
St. Elizabeth's Episcopal Church, 11700 North 3900 East, Whiterocks