The saints walk together with us
Friday, Nov. 02, 2012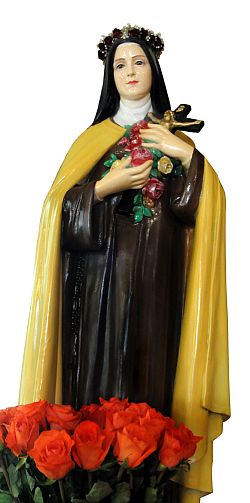 Intermountain Catholic
+ Enlarge
SALT LAKE CITY — For Catholics, saints are more than simply plaster statues: They are intercessors, mentors and part of everyday life.
Saints "intercede for us with the Father, with Christ; they lead us to the Father and to Christ; and they act as models on our pilgrim way," said Monsignor M. Francis Mannion, pastor emeritus of Saint Vincent de Paul Parish. "All Christians are called to be modeled on Christ and the saints are those who have achieved that status in a remarkable way."
Many saints, including the Virgin Mary, Jesus' own mother, suffered terribly, but their examples "show us what the power of God's grace in the human life can be," said Sister Cheryl Clemons, an Ursuline Sister of Mount St. Joseph who is vice president for academic affairs at Brescia University in Kentucky. "God can bring beauty out of the most gosh-awful human experiences. It's a way of finding hope in somebody else's story."
Praying to the saints differs from praying to God, Sr. Cheryl said. "Only God is deserving of worship. Our prayer to the saints is ... talking to someone who's a big brother or big sister in the faith, because we believe they understand something's going on in our life right now or can help us with something that's going on."
There is no clash between the adoration of Christ and the veneration of saints, because the saints always point to God, agreed Msgr. Mannion. "We can talk to anybody we want to, so we can talk to Mary, but the conversation with Mary never ends with Mary, it always ends with Mary leading us to Jesus," he said.
Saints come from every culture and walk of life, which "can be encouraging for us because we see that there's no one single path to holiness," Sr. Cheryl said. "The great beauty of the saints is that ... their lives continue to be applicable to new times and new places."
For example, the 17,000 Ladies of Charity in the United States venerate Saints Vincent de Paul and Louise de Marillac, who founded the organization in 1617 to serve the desperately poor. Here in Utah, local chapter members attend a retreat each year that emphasizes this mission, said Daughters of Charity Sister Germaine Sarrazin, the group's spiritual moderator.
The patron saints "affect us today because their spirit is what we have to maintain," Sr. Germaine said. "We were always taught to serve the poor with humility, simplicity and charity, and that is what we still strive to do."
In a similar way, members of the Militia of the Immaculata emulate Saint Maximilian Kolbe, a Catholic priest who died in Auschwitz after entering a starvation bunker in place of another man who had a wife and children.
St. Maximilian founded the Militia of the Immaculata, an evangelization movement, while he was a seminarian.
He "stressed in his spirituality total consecration to Our Lady," said Donna Masek, a Saint Mary parishioner, so MI members entrust their spiritual life to Mary and ask her to help them be greater witnesses to Jesus; in Utah, the group dedicates itself to pro-life efforts.
For Masek, being a member of the Militia of Immaculata "has tremendously strengthened my faith," she said. "I think we went from being once-a-week Catholics to going every day to Mass if we can, getting back to the Sacrament of Confession once a month, and things like that."
Similarly, Rita Silvestri of Saint George Parish venerates the Virgin Mary; her devotion has resulted in the publication last month of a memoir that details her five trips to Medjugorje, the shrine in Bosnia and Herzegovina where Our Lady first appeared in 1981.
Once Silvestri and her husband began visiting Medjugorje, "incredibly wonderful things were happening to us; not only that we were seeing miracles, we were meeting people of God, and we were having experiences traveling back and forth to Medjugorje that were astonishing," she said. "Our Holy Mother is there. She's palpable. You know she's there."
Silvestri was brought up praying the rosary around the table, and her father was devoted to Mary, she said. "Whenever I needed anything ... I turned to her, I turned to Saint Anthony, I turned to Saint Jude, but Our Holy Mother was always right on top of the group. She has been a part of my life from very, very early on. She's my mother."
The Holy Spirit urged her to write The World Needs Medjugorje, she said, which is "the culmination of the need to tell the world that they have to come back to God," she said – a message to which all the saints attest.
(See also 'Which saint inspired you?' 'Catholics celebrate the Lord of Miracles,' and 'St. Jude attracts monthly devotion.')