The Spirit of St. Andrew Award Celebrates Acts of Kindness
Friday, Jan. 26, 2018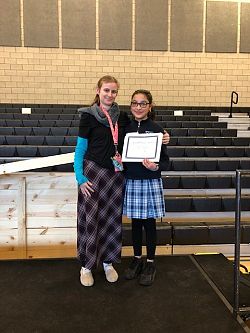 Courtesy of St. Andrew Catholic School
+ Enlarge
This year officials at St. Andrew Catholic School have instituted a new monthly citizenship award that celebrates students who consistently do the right thing, or who have made huge improvements in their efforts to do the right thing.
The award also may be presented to a student who has committed a random act of kindness or thoughtfulness.
Our most recent recipient, 7th-grader Mireya Z., was nominated by several staff members who said that "she consistently shows leadership through a positive, happy attitude ... which is infectious to those around her" and "she is always the first to offer to help clean up, or help another student with their homework and makes sure that her classmates show respect for their teachers."
Another commented, "She is a genuinely kind and caring person with the capacity to inspire those around her to strive for great things."
Still another wrote, "Mireya – your positive and caring nature are reflected by those around you. Your leadership is truly contributing the wonderful school environment that we enjoy at St. Andrew Catholic School. Keep up the good work!"
Recognizing the character strengths in our students is very important to us at Saint Andrew Catholic School. St. Andrew himself was a man of unyielding kindness and generosity toward those in need. These are qualities that we strive to instill and foster in our students. Celebrating the existence of these qualities in our youth is truly a celebration of our learning environment as a whole.
Courtesy of St. Andrew Catholic School