Three parish priests lay down their shepherd's staffs - Msgr. Daz
Friday, Mar. 25, 2011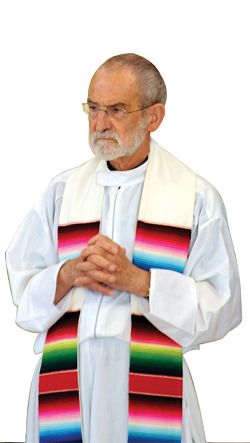 Intermountain Catholic
+ Enlarge
BOUNTIFUL – For 56 years Monsignor Rudolph Daz has been a very active priest in the Salt Lake City Catholic Diocese.
He was ordained in 1954 by the Most Rev. Joseph Lennox Federal, the sixth Bishop of Salt Lake City. His first assignment was as assistant pastor of Saint Marguerite Parish in Tooele from 1954 to 1956.
"Before I was ordained I was wondering if I had a vocation," said Msgr. Daz, but that doubt has been dispelled because for more than half a century he has been serving in different parishes and missions all over Utah.
Msgr. Daz thinks that what attracted him most to the priesthood was that, since he was a little boy, he served at Mass as an altar boy.
Born and raised in Utah, Msgr. Daz comes from an Italian family. He attended Saint Joseph Catholic schools from 1934 to 1943 and graduated from Ogden High School in 1944. He attended St. Mary's College of California in Moraga, Saint Joseph College in Mountain View, Calif. and earned a Bachelor of Science degree from Saint Patrick's Seminary in Menlo Park, Calif. He was ordained Jan. 24, 1954 at Saint Joseph Catholic Church in Ogden.
"He is from Ogden, where his mother operated a small family Italian restaurant. He has always been proud of his Italian heritage and close to his family," said Monsignor Terrence Fitzgerald, vicar general and vicar for clergy for the Diocese of Salt Lake City.
Msgr. Daz has served in nine different parishes and missions and was elevated to Prelate of Honor by Pope John Paul II on April 30, 2001. He also has served as dean of the Salt Lake Deanery from 2002 to the present.
"Msgr. Daz has always been grateful for his call to be a priest, I would characterize him as a very human, compassionate man who is truly humble," said Msgr. Fitzgerald.
Despite his earlier doubts, "I think I have a real vocation; God called me to the priesthood," said Msgr. Daz. "The main things that a priest is ordained for is to offer the sacrifice of the Mass; to be able to celebrate Mass."
During the past 56 years the Catholic community in Utah has grown a lot, Msgr. Daz said. "People need to go to Mass on Sunday and pray every day; they need to serve people in the capacity that they are able to serve every day," he said.
"I would describe him as faithful, true to his vocation, a son of the Church, a man of faith who is very devout and prayful. He is obedient and has accepted every assignment given him by the Church," said Msgr. Fitzgerald. "His ministry flows from his personal life of prayer and devotion and his care for each of the parishioners entrusted to him. I would say he is like the patron saint of parish priests, Saint John Vianney, the Curé of Ars."
Currently pastor of Saint Olaf Parish in Bountiful, Msgr. Daz will retire on Aug. 1 and move to Saint Joseph's Villa in Salt Lake City.
"I pray every day that God will keep me faithful," he said.
His advice to young men who are thinking of becoming priests is, "Be faithful to Jesus and practice your faith. Pray every day. Ask God to guide you go to the seminary, and try."
"Monsignor is a brother to the priests. He has a special love for the sick and dying and has always been present for them," said Msgr. Fitzgerald.
List of Appointments since ordination:
1954 – 1956: Assistant Pastor, St. Marguerite Parish
Sept. 1, 1956 – Nov. 24, 1956: Assistant Pastor, Saint Therese of the Child Jesus Parish
1956 – 1957: Assistant Pastor, Saint Ann Parish
1957 – 1958: Assistant Pastor, Immaculate Conception Parish
1958 – 1964: Pastor, Administrator, Saint Patrick Parish, Eureka
1965 – 1966: Administrator, Saint Patrick Parish, Salt Lake City
1966 – 1977: Pastor, Saint Anthony of Padua Parish
1977- 1987: Pastor, Saint Joseph the Worker Parish
1987 to 1993: Pastor, Saint Olaf Parish
1993 – Sabbatical leave, studies at North American College at Rome
July 1987 - present: Pastor, Saint Olaf Parish