Traditions taking place at Saint Andrew school
Friday, Jan. 28, 2011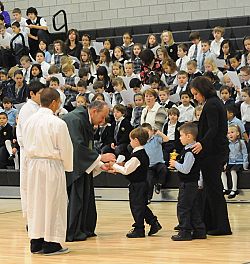 Intermountain Catholic
+ Enlarge
RIVERTON — Saint Andrew Catholic School opened three years ago with 113 students in four-year-old pre-kindergarten through fifth grade, no library and no playground.
"It was an unusual situation because the parish was established at almost same time as the school," said Holy Cross Sister Karla McKinnie, Saint Andrew principal. 'That's why recruitment was so hard, because we had no parish base to draw from."
St. Andrew school was established because of the growth in the south end of the Salt Lake Valley, said Holy Cross Sister Catherine Kamphaus, superintendent of Utah Catholic Schools, and also to help grow the parish. "It was felt that if we started a school, it also would help establish the parish," she said.
St. Andrew Parish was established in 2006; the first Mass was held in the home of the pastor, Father Francisco Pires. Today the parish is housed in a church and once a month hosts a fundraising breakfast for the school, which now has 205 students from 3-year-old preschool to grade seven, with plans to add eighth grade next year.
"A lot of new traditions will start next year, including yearbook. That's a big deal for kids," Sr. Karla said. "There are a couple things we haven't started because I wanted to wait until we had eighth-graders, like student council and science fair with the diocese. These are things that eighth-graders usually do."
One of the challenges of starting the school was recruiting students, and not just because the parish was only just being established but because the public wasn't aware of the school. Its location is a slight drawback; it's in a residential neighborhood a block off a main thoroughfare.
Finances also were a challenge at first because of the small enrollment, but "now we have a fairly strong parent's group that helps with fundraising," Sr. Karla said. "Now we're pretty well established, but we're still working on getting our name out there," she added.
Students' families have rallied to help build the school. Last year a grandparent anonymously donated $20,000 to establish the library; the money paid for a part-time librarian and start the book collection. This year, the school received another anonymous donation to purchase playground equipment. The slides and monkey bars currently are packed in a box waiting for warm weather, when volunteers will assemble the equipment, Sr. Karla said.
Because building community is so important to a new school, Sr. Karla has established several St. Andrew traditions: a Christmas program, a yearly festival, a monthly virtue for the students to emulate and a weekly letter to parents.
In the future Sr. Karla hopes to add some specialty instructors, such as an arts teacher, but "right now we focus on building academics because a lot of our kids came from public school and they're not Catholic school material yet," although many who have been with St. Andrew since it opened are doing well, she said.
She attributes the school's success to its teachers and staff, who start each school day with a prayer.
"Building community is one of the hardest things," Sr. Karla said. "It seems like there have been so many things and you try to work at each one."