Two priests departing St. Catherine of Siena Newman Center
Friday, May. 17, 2019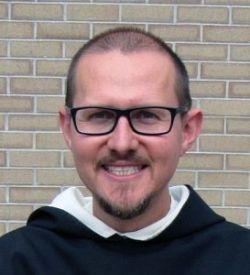 IC Archive photo
Photo 1 of 2
SALT LAKE CITY — Two Dominican friars who have been ministering faithfully at the St. Catherine of Siena Catholic Newman Center will shortly be leaving Utah for new assignments. Both are members of the Polish Dominican Province in Krakow who have been serving in the United States under an agreement between the American and Polish provinces.
Father Lukasz Misko, O.P. has been the campus minister at the Newman Center for the past two years. Prior to that, he served as pastor of the parish for two years.
Father Marcin Szymanski, O.P. has been the parochial vicar and director of religious education at St. Catherine's for the past two years.
Fr. Lukasz will join the Dominican Liturgical Center in Krakow. He has already been working with the liturgical center so it will be an easy transition "to help strengthen the team there," Fr. Marcin said.
Fr. Marcin will return to the post he left before coming to Utah. He will again serve as associate director of the Prince of Peace Newman Center at the University of Washington in Seattle.
He is looking forward to being part of the newly expanded Newman Center and is excited to again be focused on students, he said.
"Both of them have been a tremendous asset to Newman," said Tracy Lewis, St. Catherine's pastoral council president. "Fr. Lukasz has really invigorated the student ministry. … His enthusiasm is absolutely infectious. … I've never seen the student ministry thrive as it has under Fr. Lukasz."
"He always hears everyone out, no matter what side of the story they're on," student leader Alicia Munoz said of Fr. Lukasz. "Any students who have ideas for the ministry, he hears them out" and helps make those ideas a reality.
Fr. Lukasz has also been a great supporter of Books and Beers, the Newman Center's young adult group that meets regularly to discuss religious readings over beer, she said.
"It's a beautiful community that has grown quite significantly since it started three years ago," Munoz said.
Similarly, Fr. Marcin has done "a tremendous job leading religious education," Lewis said. "He has been a great asset to all of us."
The friar "is very good at giving spiritual direction and helps a person sort out their feelings really well," Munoz said.
Fr. Marcin has been very passionate about the Newman Center's St. Martin de Porres street ministry, something he and student leaders started up after seeing a similar program in Denver called Christ in the City.
"We recognize those people are being fed, but often they don't have any relationships and are treated without dignity," he said. "We try to be with them and for them."
Fr. Marcin said he will remember the opportunity he had to "experience a Church that is truly a missionary diocese."
"Even in this small diocese, there are lots of good Catholics trying to live the best life they can — more sometimes than in big, established churches," he said.
He will also remember the beauty of Utah.
"It's an amazing location: Salt Lake City is surrounded with mountains. The sunsets are spectacular," he said.
Fr. Jacek Buda, also of the Polish Dominican Province, will remain as pastor of St. Catherine's.
"It will be very sad to not have three Polish Dominican priests; it has been very wonderful to learn their culture," Lewis said. "I don't know if all Polish priests are like that, but they are the hardest-working priests I have ever met."
Munoz echoed Lewis' sentiments.
"We are very blessed to have Dominican priests because they know their theology," she said. "I have definitely grown in my faith. … Their time here in Utah was such a huge blessing not only to me, but to everyone here in the ministry."
The parish will hold a farewell barbecue for the two friars on Sunday, June 2 at noon at the Newman Center, 170 University St., Salt Lake City. All are invited.