UHSAA names retired math teacher 2013-14 Super Fan of the Year
Friday, Jun. 06, 2014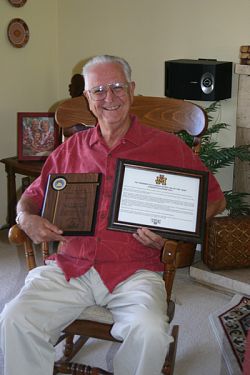 Intermountain Catholic
+ Enlarge
SALT LAKE CITY — The Utah High School Activities Association honored Patrick Brimmer with the 2013-2014 Super Fan of the Year Award for his loyal devotion and support of high school activities, and his love for the students who participate in them.
Brimmer retired from Judge Memorial Catholic High School in 2004; he had taught all levels of math and also served as the Junior Class advisor.
"As a classroom teacher, I have always felt it was extremely important to support the entire student, not just their progress in my class," said Brimmer. "It gives me great pleasure to be the super fan at games, and I can appreciate the effort that goes into making all of the student's activities successful."
Judge Memorial nominated Brimmer for his 20-year history of supporting high school activities. Born and raised in Bakersfield, Calif., Brimmer taught nine years in California and was the assistant band director designing half-time shows for the football games before he changed careers.
After teaching in California, Brimmer worked as a police officer and in the computer business.
After 11 years in the computer business, he decided to go back "to what I enjoyed most – education," said Brimmer.
Brimmer's classroom philosophy was "balance in their lives," he said. "If they just focus on academics or sports or social, they are out of balance; they need a blend of all the activities. I encouraged them to be participants, and I always supported them in their outside endeavors."
By participating in activities like sports, theater, or in student government, they learn real-life skills like time management, responsibility, organization and honesty, he said; "time management is especially critical for students playing in sports."
Brimmer felt it was important for students to see him support them in whatever endeavor they were doing, in or out of the classroom, he said. "They learned that win or lose I was going to be there to support them."
As a teacher, Brimmer was "tremendously organized and had high expectations for his students, but he was always very positive," said Pat Clark, Judge Memorial math teacher. "He always encouraged the kids and promoted an optimistic philosophy."
When Clark's son, Tim, and John Colosimo were coaching football at Judge Memorial, Clark would see Brimmer at the games wearing a red and gold shirt and hat, greeting the team, he said. "He did that for every game, and he did the same thing for basketball," said Clark. "He was very enthusiastic and dedicated."
Colosimo is now head football coach at Juan Diego Catholic High School.
"If they won, I gave them high-fives, and if they lost I tried to find other positive things that I could say to them as they headed into the locker room," Brimmer said. "I felt it was extremely important for them to know I was there to support them and I wanted to look at each of them as individuals outside of my classroom. I also wanted to support those kids who didn't have me in class."
The last six years of Brimmer's career he taught the freshman and sophomore classes so he could teach them study habits, he said. "I wanted to prepare them for college," he said.
Brimmer and his wife, Linda, have been married 46 years and what Linda finds amazing is the number of parents and students who see him and "thank him for the way he taught the students how to study," she said. "They will say they watched other people struggle, but found it a breeze because they had him for a teacher."