Upcoming events to help marriages
Friday, Apr. 13, 2018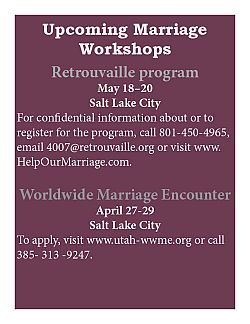 Intermountain Catholic
+ Enlarge
SALT LAKE CITY— The Diocese of Salt Lake City's Office of Marriage and Family Life is constantly offering resources under the understanding that "the family is the domestic Church and reveals to the world a unique vision of God's love and life."
In accordance with that understanding, the Marriage and Family Life office joins with local, national and international groups that "support and protect family life in accordance with Catholic teaching," according to the description of its work.
Following this mandate, Veola Burchett, director of the Office of Marriage and Family Life, has coordinated with organizers to offer a Worldwide Marriage Encounter in Salt Lake City on the weekend of April 27-29, and a Retrouvaille weekend is scheduled for May 18-20, also in Salt Lake City.
"Every profession and calling has to have some sort of education and update that keeps you current on what is going on in them," said Burchett, pointing out that priests, nuns and deacons regularly attend retreats.
"In them they refresh themselves to renew themselves, to get in touch with what their vocation means to them, what it means to the Church," Burchett said.
In the same way, Marriage Encounters and Retrouvaille offer married couples a chance to renew their relationships.
"They are opportunities for married couples to take a fresh look at their marriages and to say, 'What is it that we need to improve them? These are the things that we have been doing right and this is great, but what do we need to do to improve?'" Burchett said.
Couples get married for the long haul, she said. "No one goes into marriage saying, 'We are going into this for five years and see how it works out.' Everybody goes into it saying, 'Til death do us part.'"
With the hope of being married for 50 years or longer, "the only way in which we can get there is if we are constantly determining and constantly prioritizing our marriage and saying, 'This is so important that we are going to work on it; we are going to improve it every step of the way,' and that's what the Marriage Encounter provides," Burchett said. "It's similar to continued learning education."
Within this context, Retrouvaille has a very specific focus.
"Those couples whose marriages are in trouble, or that seems to have more or need to take more effort than other marriages; that they are truly in love and truly, absolutely believe that marriage is for a lifetime but also recognize that things are not going like they should, have the opportunity to attend a Retrouvaille," Burchett said.
Couples who have gotten into behavior patterns that are not conducive to contentment and unity can benefit from Retrouvaille because it "helps them to reexamine what has been going on and get them onto a different path," Burchett said, adding that in these circumstances marriage can take more effort because it takes work to get past old patterns and establish new ones.
Worldwide Marriage Encounter, on the other hand, offers the chance to "learn valuable communication skills between a husband and wife in a setting away from distractions from everyday life. To rediscover the spark that was there on your wedding day," the Encounter invitation states.
WHAT: Retrouvaille program
WHEN: May 18–20
WHERE: Salt Lake City
For confidential information about or to register for the program, call 801-450-4965, email 4007@retrouvaille.org or visit www.HelpOurMarriage.com.
WHAT: Worldwide Marriage Encounter
WHEN: April 27-29
WHERE: Salt Lake City
To apply, visit www.utah-wwme.org or call 385- 313 -9247.