Utah Catholic high schools excel in fall sports
Friday, Nov. 09, 2012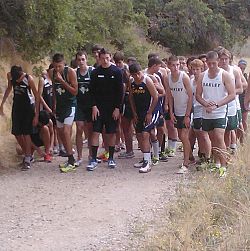 Intermountain Catholic
Photo 1 of 3
SALT LAKE CITY — Athletes from all three Catholic high schools won state or region titles in fall sports this year.
In tennis, the Judge Memorial Catholic High School girls' team won the Utah High School Athletic Association 3A State Championship, its second title in two years; and the Juan Diego Catholic High School team of Grace Claudius and Casandra Granhoej won the 3A number 1 doubles state championship title.
The Judge Memorial girls' tennis team also won the Region X title. "The future for the girls' Judge tennis team continues to look promising, with them graduating only one senior," said Dan Quinn, Judge Memorial athletic director.
Meanwhile, the Saint Joseph Catholic High School girls' cross country team had a perfect score at the state championship meet by having a runner place in first through sixth place.
Saint Joseph
The St. Joseph Catholic High School Jayhawks won region titles and made it to the championship game in soccer, volleyball and tennis.
The Saint Joseph girls' soccer team lost in the state championship game to Waterford after being tied 1-1 in the second overtime in regulation play. Waterford broke the tie with 3 of 5 penalty kicks.
"The girls worked hard and had practiced penalty kicks for about four weeks, but the night before in the semi-final game, St. Joseph beat Manti High School after being tied in overtime by kicking t3 out of 5 penalty kicks, but the game didn't end until 9 p.m.," said Alexis Salvo, athletic director and coach, and dean of students. "It's a young team and I am very proud of them; we will only graduate two seniors."
The St. Joseph girls' volleyball team, which had no seniors, also made it to the state championship game, but lost to Monticello High School. "They beat Rich High School 3-2 in the semi-final game and a few hours later had to play the defending champions, Monticello, in the final game," said Salvo.
The St. Joseph number 1 girls' tennis doubles team of Kelsey Almony and Katie Panushka finished second in the 2A state championship game at Liberty Park.
The St. Joseph girls' cross country team won the Region 17 championship and finished third at the state tournament. Senior Lyna Garcia finished second individually with a time of 20:02 in the three-mile run. Kate Weil finished fifth; the boys placed first in Region 17 and fourth at the state tournament. Senior Zak Johnston finished fourth individually, running three miles in 17:14.
In baseball, the Jayhawks finished second in Region 17 and lost in the quarter-final game against Piute High School.
Judge Memorial
Both of the Bulldogs' cross-country teams made it to the state championship round with All-State team members Jack Daily and Maddie Criscione.
The Judge Memorial girls' volleyball team won the Region X title. They had a 23-2 record going into the state championship tournament and made it through the first round before losing to Snow Canyon in the second round.
The Judge Memorial boys golf team had a "rough season this year in a tough region," said Quinn. "We have a young team and a new coach, but they will soon be back to our winning tradition."
The football team made it to the state playoffs in James Cordova's 10th year as head coach. "They played the game on a cold, snowy day in Morgan and were beat, but on the bright side, our freshman football team was undefeated," said Quinn.
"Overall the Judge Memorial fall programs went well; we have a few new coaches and some veteran coaches, and I'm excited to see how they get ready for next year and to watch these athletes grow and develop," said Quinn.
Juan Diego
Juan Diego Catholic High School also had a great season even though they have had to overcome some difficulties this year, said Chris Long, Juan Diego athletic director. "We've had to overcome the difficulty with the loss of a student, and all of our athletic teams have had to not only overcome adversity on the field, but adversity and community challenges that have been very difficult at times," he said.
The Soaring Eagle girls' volleyball team placed second in region and seventh in the state tournament. All-State center Jessica Long was nominated for All-State again this year, as were Annie Tice and Maddie Curran.
The boy's golf team qualified for the state tournament Oct. 3-4 at Roosevelt Golf Course and played under some difficult windy conditions.
The Soaring Eagle girls' soccer team was second in region and lost to Snow Canyon, the eventual state champion. The team's top player, Emily Bruder, played most of the season on the U-17 team in Azerbaijan. Bruder, a senior, has committed to play for North Carolina.
The Juan Diego cross country teams did not qualify for state, but individual members did: senior Ryan Schlehuber, freshman Zach Warrell, sophomore Madalene Caldwell, freshman Sydney Hartwick and sophomore Olivia Causse.