Utah Catholic Schools alumni: Parochial education gives solid foundation for careers, life
Friday, Sep. 01, 2017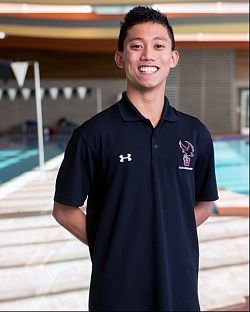 Photo 1 of 3
SALT LAKE CITY — Thousands of students have passed through the doors of Utah's three Catholic high schools over the years, earning education, experience and a chance for their faith in God to grow. Three alumni, each of whom graduated from a different Catholic high school, told their story of how their school shaped the rest of their lives.
The alumni
Jeppesen Feliciano, Juan Diego CHS Class of 2013, is pursuing a PhD in aerospace engineering at Texas A&M University after receiving a bachelor's degree with honors in mechanical engineering from the University of Utah.
"I want to help people in the best way I know how," Feliciano said. His goal is to gain his doctoral degree and use his new skills to help as many as he can, he said.
Kevin Carlsen, St. Joseph CHS Class of 2003, serves as program manager for the U.S. Navy's Center for Surface Combat Systems. After hearing of the terrorist attack on Sept. 11, 2001, "I knew I wanted to serve my country," Carlsen said. He has served in the Navy for 14 years and has earned both the Navy and Marine Corps achievement medals.
Paul C. Burke, Judge Memorial CHS Class of 1989, is a partner and shareholder of Ray Quinney and Nebecker Law Firm as well as chairman of the Rules Committee for U.S. Soccer. In 2012 he was recognized as the Attorney of the Year for his pro bono work in the community. He continues taking cases pro bono that have social or ethical importance, as well as performing his regular duties by representing his firm in court and advising other lawyers.
School Memories
For Feliciano, there was no time in his life growing up when he wasn't in a Catholic school. From St. Francis Xavier School to Juan Diego CHS, his parents chose to give him a Catholic education and he came to cherish everything about the schools he attended, he said,
"Theology was present in every aspect" of school, Feliciano said. "There was always a moral or ethical question that could come up right in the middle of a history class."
The teachers constantly reinforced Catholic beliefs, and the religious objects in the school kept their lessons in his mind, he said. The constant reminders of God were beneficial not only for Catholic students, but for those who were on the fence in their faith life, Feliciano said.
One of the things Carlsen remembers most about life at St. Joseph CHS is that "it mattered to work hard," he said. He learned that it "was OK to work hard, to succeed, to push yourself to be better than you think you can be."
His classmates from St. Joseph CHS had a special something not found anywhere else, Carlsen said. For his friends at public school, the popular students were the ones who were the most athletic or the most charismatic, but at St. Joseph CHS, the ones who worked hard and pushed themselves academically were the most admired, he said. It made him want to push himself even harder to succeed, Carlsen said.
Burke attended public elementary school, but in 9th grade he arrived at Judge Memorial CHS.
"My eyes were opened," he said. "There was an energy (at Judge Memorial CHS) that I had not seen before."
The teachers made a big impression on him as well, Burke said. Some were young and some were older, but "all of them were young at heart and their classrooms were vibrant places," he said.
Impact of Catholic schooling
Going through Catholic elementary school and high school changed the way Feliciano looked at himself and the world, instilling in him a desire to be a "global citizen," he said. Being a global citizen "means first, recognizing the impact that you have as a person on earth … and recognizing your influence on the people around you."
Juan Diego CHS taught him about stewardship, accountability and faith, all of which helped him to be a better global citizen, Feliciano said. "I was given the flexibility … to carve my own path" at Juan Diego CHS, he said.
For Carlsen, the "fostering nature of St. Joseph" gave him the values he needed as he entered the Navy at the age of 19, he said. One of those key values was integrity, he said.
"As an officer, there's been times where I had to be honest, not pass the buck. Trust, from a military standpoint, is the most critical aspect an officer can have," he said.
St. Joseph CHS gave him the integrity he needed to gain the trust of the men he commands and he is very grateful, Carlsen said.
"In any capacity I can give back to St. Joseph and the Catholic schools that have done so much for me, I will," he said.
Similarly, Judge Memorial CHS "prepared me to be a lawyer," Burke said, adding that he is grateful for the environment that his high school provided for him.
"I had a great experience at Judge, I made lifelong friends … who have supported me through thick and thin," he said.
"I felt welcomed at (Judge Memorial CHS) where I could be a part of something bigger than myself, a part of their community," Burke said.