Utah Food Bank names J.E. Cosgriff 'School Group of the Year'
Friday, Apr. 19, 2013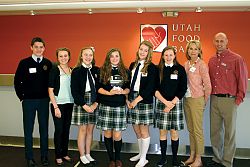 Intermountain Catholic
+ Enlarge
SALT LAKE CITY — The Utah Food Bank recognized the J.E. Cosgriff Memorial eighth-grade class as the School Group of the Year for its monthly service. Five eighth-grade students and Cindy Hunt, eighth-grade teacher, were presented with the award at the "Open Hearts Helping Hand" volunteer appreciation luncheon at the Utah Food Bank April 11.
"It has been an honor for our class to volunteer each month at the Utah Food Bank," said Cy Austin, representing the eighth-grade class. "We have witnessed firsthand the concept of social justice at work in our community. My classmates and I have learned so much from the Utah Food Bank about how many people go hungry every day and about teamwork and responsibility. We now know that even helping a little matters to those in need, and have a better understanding of how important volunteerism is in reaching out to others."
Cosgriff Principal Betsy Hunt instills in the faculty and students the importance of giving back to those who are less fortunate, said Lauren Tuft, Utah Food Bank volunteer coordinator. "It is as important to create social awareness as it is to provide a strong academic foundation," she said. "The eighth-grade class volunteering at the Food Bank is a natural extension of this school philosophy. We want to express our gratitude for how well these students worked together."
A key component of the school's religious and ethical instruction is for all students to understand the critical importance of serving those in need both in the neighborhood and in the world at large, Betsy Hunt said.
"This work experience at the Utah Food Bank has helped our eighth-grade students know that their effort and work throughout the year truly has had a positive impact on the life of others," Betsy Hunt said. "The students felt a sense of pride in sorting and preparing edible food for the hungry and at the same time the students were humbled by the many people in Utah who go hungry each day."
The eighth-grade class served once a month at the Food Bank. "The Utah Food Bank educates its volunteers about the importance of what they do, how many people they serve and that they help people throughout the state," said Cindy Hunt. "There is no downtime; volunteers work hard and we tried to get as much done as we could for them."
Eighth-grader Erin Morgan had fun and "I also bonded with my classmates," she said.
Sarah McGregor said, "They help the elderly all the way down to infants."
Abbi Mancini thought it was great the Food Bank also accepts dog and cat food donations for distribution to those with pets. "I also learned a good work ethic and how to keep up and keep going," she said.
Utah Food Bank Chief Marketing Officer Ginette Bott said, "It is always so impressive to us when we see the youth and young families come to the Food Bank [as volunteers] because we know that the next generation is learning how important it is to be able to give back to the communities."
Jordan Roberts, Utah Food Bank volunteer manager, agreed. "We recognize the value of service that comes from children and teens; we know they are our future leaders. If we can develop that compassion and service ethic early, we know it will add to a better society. The Cosgriff students were fantastic and a tremendous help and they seemed to have a good time."